Cincinnati Motorcycle Accident Lawyer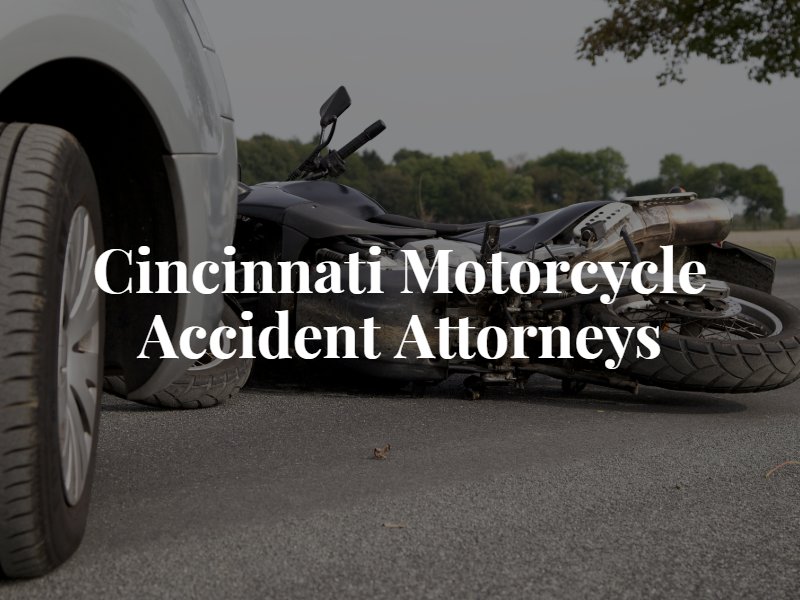 Motorcyclists usually suffer the worst injuries in vehicle collisions. Injured victims can have broken bones, head and brain injuries, lacerations, road rash, traumatic tattooing, and more. If you or a loved one has been in a motorcycle accident in Cincinnati, the Cincinnati motorcycle accident attorney at Elk & Elk Co., Ltd can help. You may be eligible for significant financial compensation.
Resources & Information About Motorcycle Accidents in Cincinnati
What Our Cincinnati Motorcycle Accident Lawyers Can Do For You
We have multiple offices throughout the state of Ohio for your convenience and have a proven track record of success.
We will maintain open communication during every stage of your motorcycle accident claim, so you know what is going on at all times.
We operate on a contingency fee basis. You will only pay your Cincinnati personal injury attorney for his or her services if you secure a financial award.
We will work with the insurance company, so you can focus on your road to recovery.
Why Do You Need a Motorcycle Accident Attorney?
Motorcycle accidents are often catastrophic for victims. In 2018, 144 motorcyclists died in Ohio traffic accidents. If you suffered life-changing injuries, expensive property damage, or the loss of a loved one, an experienced attorney can help you take care of the legal work necessary to secure compensation for your accident. This includes:
Investigating your case
Determining the full value of your damages
Negotiating with insurance companies on your behalf
Fighting for the maximum possible compensation
We want to help you through this uncertain time.
Why Do Motorcycle Accidents Happen?
Most motorcycle accidents happen because of negligence. Breaking traffic laws and ignoring driver responsibilities can lead to situations that are dangerous for vulnerable motorcyclists. Identifying the cause of your accident is one of the first steps toward obtaining compensation in Ohio.
Speeding
Red light running
Failure to yield the right-of-way
Distracted and negligent drivers
Roadway defects
Motorcycle part defects
Dangerous weather conditions
If a negligent or reckless party caused your motorcycle accident in Cincinnati, speak to an attorney about your legal options. You may be eligible for compensation to cover your medical bills, pain, and suffering, property damage and lost wages. A motorcycle accident lawyer from Elk & Elk can help you identify the cause of your crash and the at-fault party.
Who Is Liable After a Motorcycle Accident?
In Ohio, motorcycle accident victims can seek restitution from the party liable for their accidents through a civil claim. Liability refers to one's financial responsibility for an accident. Determining liability takes analyzing evidence from the scene of the motorcycle accident. The liable party for your recent collision could be a motor vehicle driver, the city of Cincinnati for a roadway defect, or an auto manufacturer for defective parts. Many civil claims involve the shared liability of more than one party. A motorcycle accident lawyer can help you assign and prove liability.
What Damages Can I Recover?
Regardless of the severity of your motorcycle accident, Elk & Elk is committed to securing the maximum possible compensation for your damages. This may include compensation for:
Any property damage
Medical bills, including prescriptions and ongoing rehab
Lost wages
Lost earning potential
Pain and suffering
Funeral expenses
Other expenditures as a result of the accident
Contact Our Cincinnati Motorcycle Accident Attorney Today for a Free Consultation
The personal injury lawyers at Elk & Elk can investigate your motorcycle accident and help you understand your rights. We have years of experience with these types of cases and offices throughout Ohio. Visit our Cincinnati location to discuss your case at no cost or obligation. Schedule your free consultation at (513) 370-5807 or online today.
Client Review: 5/5
★ ★ ★ ★ ★
My peace of mind was more important in the end, than the dollar amount. Matt is exceptional at guiding an individual down the path of reason.
-Brian
More Client Testimonials