Ohio Wrongful Death Attorney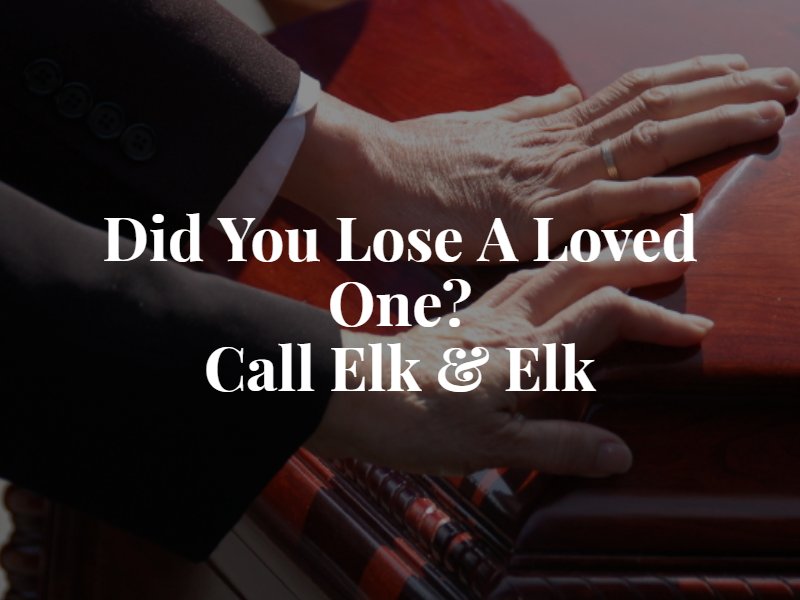 Wrongful death lawyers and medical malpractice attorneys in Ohio
When someone close to you dies as a result of another party's negligence, the face of tragedy takes on a personal appearance. Often, disbelief, anger and despair replace emotions like satisfaction, security and love. Those left behind are often plagued by questions, wondering if they could have done something different that would have saved their loved ones. During these difficult times, the compassionate and experienced Ohio wrongful death attorneys at Elk & Elk can help.
If your loved one died from someone's negligence, the wrongful death lawyers at Elk & Elk Co., Ltd., want to hear from you. We will help you fight for the justice your loved one deserved and hold negligent people responsible for their bad decisions. For a free consultation, call 1-800-ELK-OHIO or contact us online.
An Ohio firm dedicated to fighting for justice
A wrongful death action may result from any number of scenarios:
In legal terms, a wrongful death is death that is caused by the wrongful act or negligence of another, which serves as the basis for a civil action for damages on behalf of the decedent's heirs.
Click here for more information on notable wrongful death verdicts we have won: Wrongful Death Case Results
In most cases, the victims' families bring wrongful death suits against the defendants to seek compensation for pain and suffering, funeral expenses, and lost wages – past and future – among other damages.
Conditions for filing a wrongful death claim
The death must have been caused, in whole or in part, by the defendant's conduct, even though there was no direct intention to kill the victim. The defendant must have been deemed negligent or strictly liable for the victim's death.
Losing a loved one due to medical malpractice or seeing them pass away due to wrongful death can be traumatic. At such a difficult time, you should not have to worry about the legal ramifications of your loss. At Elk & Elk, our wrongful death lawyers and medical malpractice attorneys aggressively pursue wrongful death claims, while providing compassionate and prompt customer service to our clients. We charge no fee and the client does not have to advance or pay any case expenses unless the client has a successful outcome. Ask us about our no fee promise.
Call 1-800-ELK-OHIO for a free consultation if you have lost a loved one to someone's negligence
When you've lost a loved one as a result of someone else's negligence, you need to protect your rights and the rights of your loved one. You need legal help and you need experienced wrongful death lawyers or medical malpractice attorneys who understand the needs of those left behind in the wake of untimely tragedy. Let Elk & Elk show you the difference that hiring a top law firm with cutting-edge resources can make for you.
Elk & Elk is staffed with industry-leading wrongful death lawyers and medical malpractice attorneys in Ohio. Our legal team also includes paralegals, doctors, nurses, accountants, economists, analysts, researchers, investigators and experts. We employ all of these professionals to prove the merits of your case beyond the shadow of a doubt – all without any upfront costs.
Just call Elk & Elk at 1-800-ELK-OHIO to put our experienced, dedicated staff to work for you. We're available 24 hours a day, seven days a week, 365 days a year. You can also contact us online.