Cincinnati Personal Injury Attorney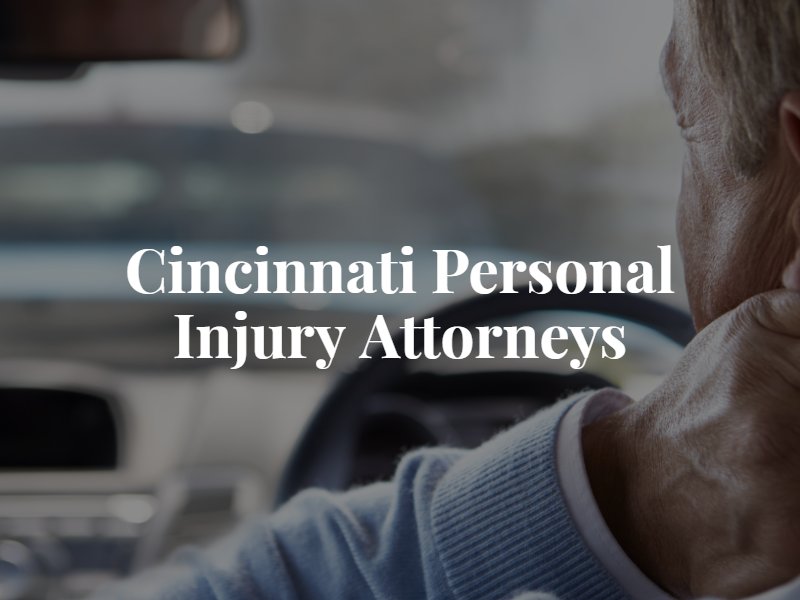 Personal injury accidents can cause extreme changes in your life. You may have permanent disabilities and thousands of dollars in medical bills, on top of property damages and the inability to return to work. You may have lost someone close to you because of another person's negligence. You can take your life back with help from a Cincinnati personal injury attorney at Elk & Elk Co., Ltd.
Cincinnati Personal Injury Resources
The personal injury attorneys at Elk & Elk Co., Ltd represent victims of serious accidents in Cincinnati. We can take over complex paperwork on your behalf, including insurance settlement negotiations. Our injury attorneys want to fight for the financial recovery you require to move forward and we will work with the insurance company so you can focus on healing. Speak to a Cincinnati personal injury attorney now in a free, no-obligation consultation. Call us anytime at (513) 370-5807.
Why Hire Our Cincinnati Personal Injury Lawyers?
Our Cincinnati personal injury attorneys offer initial consultations at no cost and at no obligation to you to retain our firm. We want to give you the information you need to make an educated decision moving forward.
We have more than five decades of experience successfully representing clients in personal injury claims throughout Ohio. Our personal injury lawyers will use this experience to strengthen your case.
We do not charge for our services unless we win the case. We are a contingency-based firm – attorney's fees are contingent upon us securing results. You will never have to pay out of pocket for our services and we will fight to win you the maximum amount of compensation.
Why Do I Need a Personal Injury Attorney in Cincinnati?
According to the National Safety Council, "Accidental injury has become the No. 3 cause of death" in the United States. For the personal injury accidents that aren't fatal, it's important to have a personal injury lawyer handle your case.
If you are seriously injured, it may be difficult or even impossible to build a thorough case for compensation. A personal injury attorney can help you tackle the legal legwork while you focus on healing and recovery.
A law firm with a focus on personal injury has the resources to comprehensively investigate your accident, ensuring that every element is taken into consideration for your case.
Determining the exact amount of compensation you are entitled to can be difficult for those without any background in finances. An attorney is familiar with what is typically expected in terms of recovery and damages and may be able to hire accountants and other financial experts to help determine the maximum possible compensation you may pursue.
Negotiating with insurance companies can be infamously frustrating. Many providers offer quick settlements often much lower than what you are entitled to, in the hopes of quickly resolving your case and minimizing payouts. A lawyer can communicate with providers on your behalf to ensure that you are receiving the maximum possible compensation for your injuries.
At Elk & Elk, our expert team of attorneys can not only meet all these needs but exceed your expectations by providing you with invaluable support through the claims process.
Our Practice Areas in Cincinnati
At Elk & Elk, our priority is client satisfaction. We aim to significantly improve the lives of injury victims. In over 50 years of experience, our personal injury lawyers have taken on and won cases in a range of practice areas. If you do not see your type of accident below, contact us to discuss your unique circumstances with one of our attorneys. We offer a free no-obligation consultation.
How Long Do I Have To File a Personal Injury Claim in Cincinnati?
In Ohio, you have two years from the date of your accident to bring a personal injury claim. Waiting too long could risk your financial future by barring you from filing a claim. Contact our Cincinnati law office right away to avoid missing your deadline and to receive a free case evaluation's.
How Much is Your Personal Injury Case Worth?
Pursuing a personal injury claim with help from an attorney could result in compensation for your accident-related losses. You and your family may be able to claim the recovery you need to move forward with confidence and peace of mind. You may be eligible for a variety of damages.
Past and future medical expenses
Property damage repairs
Lost wages and earning capacity
Physical pain and emotional suffering
Loss of consortium
Lost quality of life
Wrongful death damages
Punitive damages
The amount of your financial recovery will depend on the type and severity of your losses. Our attorneys can evaluate your claim and give you an accurate estimate of what it is worth during your free consultation.
Do You Offer Free Consultations?
Yes. Elk & Elk Co., Ltd wants you to know you are not alone. We have helped thousands of clients sort through the consequences of personal injuries. We may be able to protect your family's interests as well. Let us fight for the compensation you need to move past a serious accident. Start with a free, no obligation consultation at our Cincinnati office. Call (513) 370-5807 or submit our claim form online to schedule yours.
---
Client Review: 5/5
★ ★ ★ ★ ★
My peace of mind was more important in the end, than the dollar amount. Matt is exceptional at guiding an individual down the path of reason.
-Brian
More Client Testimonials