Cincinnati Bicycle Accident Attorney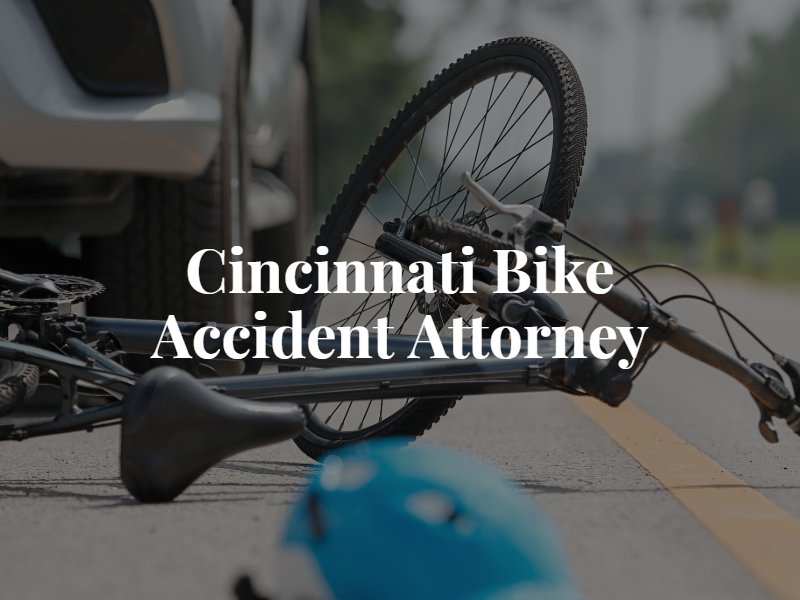 Bicycle accidents can disrupt lives and cause serious physical and emotional damage. If you or someone you love was recently in a bicycle accident in Cincinnati, contact Elk & Elk Co., Ltd immediately to discuss your case. Call (513) 370-5807 to speak with a Cincinnati bicycle accident attorney at no cost or obligation.
Why Choose Our Bike Accident Lawyers?
Our firm has the resources to build a strong, compelling case on your behalf. Our Cincinnati personal injury lawyers have decades of experience in personal injury law.
Our firm has a proven track record of success in Ohio, with over $1 billion in won settlements and verdicts for past clients.
Our lawyers maintain openness and transparency with every client, so their needs help to form our legal strategies.
Our firm does not charge clients unless we win the case. You will not pay a dime unless we secure your financial compensation.
Do You Need a Bicycle Accident Attorney in Cincinnati?
A bicycle accident attorney can be an invaluable resource to secure compensation for your damages. At Elk & Elk Co., Ltd, our legal team can:
Help you determine the full value of your claim
Investigate your accident to fully substantiate your claim
Negotiate with insurance providers to ensure you are receiving the best settlement possible
Help you fight for the maximum possible compensation while you focus on healing and recovery
Ultimately, we want to provide the support you need during this stressful, uncertain period of time.
Common Bicycle Accident Injuries
Bicycle accidents can often cause serious injuries – especially in cases where a motor vehicle is involved. According to the NHTSA, there were 783 bicyclists killed in motor vehicle crashes in 2017. This includes:
Fractures, especially in the lower extremities
Chest, neck, and face injuries
Lacerations and road rash
Head injuries
Traumatic brain injuries
Back and spinal cord injuries
Organ damage
If you or someone you love has serious injuries from a Cincinnati bicycle accident, do not hesitate to get help from an attorney. A lawyer in Cincinnati can help you find high-quality medical care in the area and keep track of injury documentation. Your lawyer can then guide you through the claims process.
Bicycle Laws in Cincinnati
Bicycles are vehicles in the eyes of Ohio law. Bicyclists must obey all typical traffic laws as they would in motor vehicles, including red lights and stop signs. Bikers must yield the right-of-way for vehicles and pedestrians when applicable, and ride in the same direction as traffic. Motorists must leave at least three feet of space when following or passing bicyclists. Breaking bicycle laws can cause common types of accidents.
Passing too closely
Dooring
Left- or right-turning vehicle
Rear-end collision
It is against the law to ride on sidewalks in business districts in Cincinnati if you are over 15 years old. Adult bicyclists must ride in the road among traffic unless the area has a designated bike path. This can place bikers in danger of collisions with motor vehicles – especially when drivers are negligent, careless, or reckless.
Who Is Liable for Your Damages?
If a driver caused your bicycle accident by failing to yield the right-of-way, driving drowsy, driving drunk, speeding, running a red light, or driving distracted, you may have grounds for a personal injury claim against the driver. Get the name and insurance information of the driver, and give your side of the story to responding police officers. Let paramedics examine you and go to the hospital for any injuries. Then, contact an attorney to discuss your case.
Do You Offer a Free Consultation?
Yes. Elk & Elk has extensive experience helping injured bicyclists recover full compensation for their damages. You could be eligible for payment of your medical bills, property damages, lost wages, and pain and suffering. Contact us today for a free review of your case by an Elk & Elk Co., Ltd bike accident lawyer.
---
Client Review: 5/5
★ ★ ★ ★ ★
My peace of mind was more important in the end, than the dollar amount. Matt is exceptional at guiding an individual down the path of reason.
-Brian
More Client Testimonials