Cincinnati Spinal Cord Injury Attorney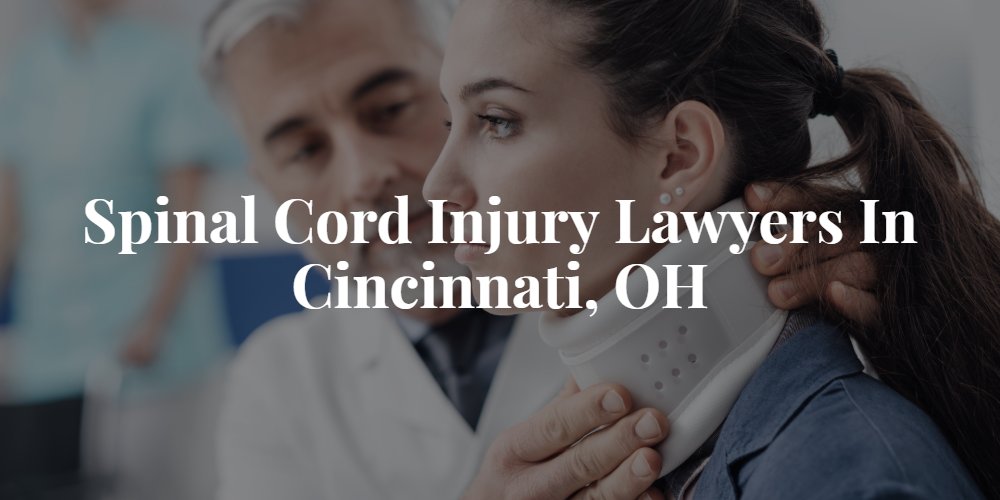 Damage to the spinal cord in any type of accident could permanently take away the victim's ability to move or feel below the point of injury. If you or a loved one suffered a spinal cord injury in Cincinnati because of someone else's negligence, such as in a motor vehicle collision or workplace accident, speak to the Cincinnati spinal cord injury lawyers at Elk & Elk Co., Ltd. We may be able to help you fight for justice and compensation. Contact us today.
Why Choose Elk & Elk Co., Ltd?
We have a proven record of success in the personal injury practice field. We have helped thousands of clients achieve settlements or verdicts for their serious injuries.
Our personal injury attorneys have more than 50 years of experience helping accident victims throughout Ohio. We have extensive practice handling spinal cord injury claims.
We operate on a contingency fee basis. We never charge any up-front costs, and only charge for attorney's services if we win the case.
What are Common Types of Spinal Cord Injuries?
A spinal cord injury can be complete or incomplete. A complete spinal cord injury totally severs the spine, causing quadriplegia, or loss of movement and sensation in all four limbs. An incomplete spinal cord injury does not cause total paralysis. Instead, it can cause paraplegia (paralysis of the lower limbs) or another form of incomplete paralysis, such as Brown-Sequard syndrome or tetraplegia. The higher up the spinal cord injury, the more serious the effects on the body.
Victims with serious spinal cord injuries may never be able to walk, eat, or talk on their own. Many require lifetime around-the-clock care, while others are relatively independent with help from mobility assistive devices such as wheelchairs or braces. Spinal cord injuries are typically permanent. No known treatment exists to restore a patient's ability to move or feel below the point of injury. However, rehabilitative therapies and surgeries may help improve function and health over time.
What are Common Causes of Spinal Cord Injuries?
A spinal cord injury can occur in any circumstance where an item or object impacts the spine or severs it, either completely or incompletely. The most common causes of spinal cord injuries are motor vehicle accidents, falls, acts of violence such as gunshots, and sports (e.g., diving accidents). Medical malpractice such as an error during surgery could also cause permanent damage to the nerves in the spinal cord. Spinal cord injury accidents often involve negligence, such as a drunk driver or a careless employer at a construction site.
What Damages Are Available?
Filing a civil claim with help from a personal injury attorney in Cincinnati can end in compensation for you and your family members. The types and amounts of damages awarded depend on the severity of the spinal cord injury, any lasting impacts on the victim, and the circumstances of the accident.
Past and future medical expenses, including doctor's appointments, surgery, rehabilitative therapies, medications, nursing care, and home/vehicle modifications.
Lost wages and lost capacity to earn. A paralyzing spinal cord injury could take away the victim's ability to return to work.
Physical pain, emotional suffering, mental anguish, lost quality of life, lost enjoyment of life, loss of consortium, and other noneconomic damages.
Punitive damages. A judge may order punitive damages to punish the defendant for gross negligence, maliciousness, or intent to harm in a spinal cord injury claim.
Although a financial award will not take back what happened to you, it can provide future financial stability in the face of expensive medical bills, lifelong care, and the irreparable changes to your life.
Contact Our Cincinnati Spinal Cord Injury Lawyer Today
Spinal cord injuries are some of the most catastrophic injuries possible in an accident. The lifetime cost of living with a spine injury can exceed $1 million. Do not handle your spine injury claim alone. Contact Elk & Elk Co., Ltd to get the most for your damages. We can tailor a comprehensive legal strategy to suit your unique needs and losses. Request your free consultation today at (513) 370-5807.
Client Review: 5/5
★ ★ ★ ★ ★
My peace of mind was more important in the end, than the dollar amount. Matt is exceptional at guiding an individual down the path of reason.
-Brian
More Client Testimonials