Ohio Nursing Home Abuse Lawyer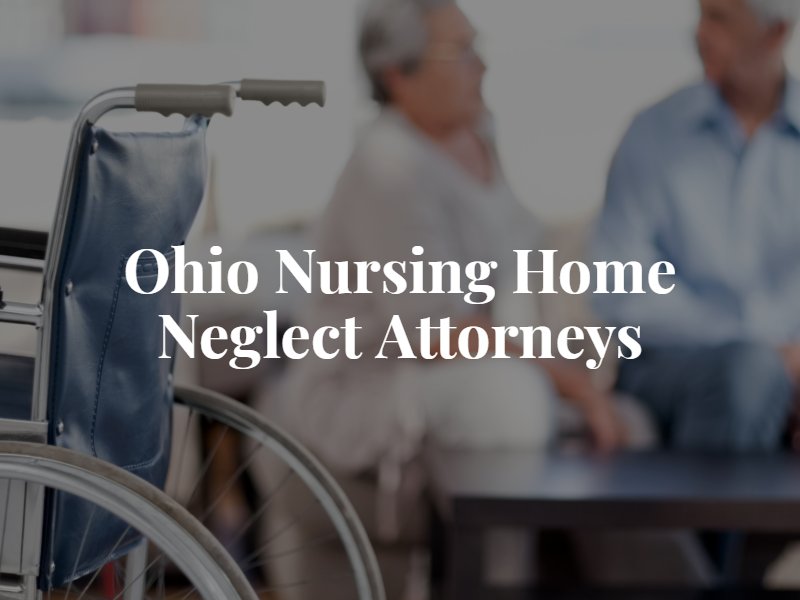 It's difficult to say exactly how many dependent adults in assisted living facilities are neglected. The same dependence requiring many senior adults and others to seek special care and supervision remains one of the largest hurdles in accurately assessing the extent of this egregious injustice.
At Elk & Elk, our Ohio nursing home abuse lawyers have seen more than enough elder abuse and neglect, nursing home malpractice and convalescent caregiver negligence to make anyone uncomfortable. At Elk & Elk, we are dedicated to stopping nursing home abuse and neglect by holding nursing home staff and managers responsible for the suffering inflicted upon their residents.
If a loved one suffered due to nursing home neglect, abuse, or wrongful death call us at 1-800-ELK-OHIO for a free case review.
Our lawyers have the experience, diligence, and resources to help
You may suspect nursing home neglect if you discover your loved one is suffering from malnutrition, dehydration, bedsores, falls, bruises, or other signs, but you may not know what to do. Let Elk & Elk advise you. Our attorneys have assisted people throughout Ohio for more than 50 years. After handling thousands of claims, we have the knowledge, skills, and resources to help you.
What are the warning signs of elder abuse in Ohio?
While we may think that certain annoyances are merely part of aging, some of those are signs of neglect.
If you or a loved one fell at a nursing home or suffers from bedsores, this should be a warning sign that something is wrong. Falls and bedsores are preventable with proper care. But due to understaffing and inadequate training, nursing home residents are allowed to suffer. Some seniors are prone to fall or have a history of falling. This often requires the nursing staff to take the proper precautions to protect our seniors.
Stop nursing home abuse and neglect before it is too late. If you suspect a problem, we will help you. Only by aggressively advocating against abuse and neglect and ensuring that we hold people responsible and accountable for their egregious behavior will we be able to protect nursing home residents.
What do you do if you suspect a loved one was wrongfully killed in a nursing home?
All too often, another news story details the horrors of yet another death due to nursing home neglect or abuse. The dependence of nursing home residents on the staff makes these occurrences all the more tragic, yet they continue to occur. We expect that when we trust a nursing home for the long-term care of our loved ones, staff members will give them the care and attention they need. Unfortunately, that is not always the case, and in some tragic situations, the neglect our loved ones suffer leads to their death.
If you suspect the death of your loved one was due to inadequate care, our nursing home wrongful death attorneys can help you get the justice you deserve while raising awareness of nursing home abuse and neglect.
Are bedsores a sign of elder neglect?
Yes. Since many nursing home residents are elderly with thinning skin and limited mobility, many people believe that bedsores in nursing homes are unavoidable. However, proper care and attention can prevent bedsores, and the resulting damage they can cause.
Bedsores are caused by pressure on a particular part of the body, such as when someone is lying in bed or sitting for a prolonged time. Making sure that residents are moving or that their positions are shifted frequently can help prevent bedsores. Bedsores not only cause pain but can lead to infection, amputation, or death. Keeping residents hydrated and well-nourished and keeping their bedsheets dry and clean all help to prevent bedsores.
Nursing homes and medication errors
The overwhelming number of prescription drugs along with their complicated names and dosages all lead to medication errors in nursing homes. Whether a resident was given the wrong drug, the wrong dose, or a drug that interacted with another drug, medical errors can cause serious and permanent health problems or even death.
With the consequences of mistakes so high, we must hold responsible parties liable. Using our team of legal and health care professionals, we investigate, research, and prepare strong legal strategies. We constantly and aggressively pursue maximum compensation on behalf of our clients.
Do I need a nursing home lawyer?
Does your loved one suffer from pressure sores or bedsores? If so, contact our nursing home abuse lawyers today. Contact us online or call us at 1-800-ELK-OHIO (1-800- 355-6446) to schedule your free consultation and learn about your rights and options. Schedule a free consultation with an Ohio nursing home lawyer today.
We have a no-fee promise.
---
Client Review: 5/5
★ ★ ★ ★ ★
Bill Price is an excellent attorney!! He was compassionate and caring. He represented my sister & I in a nursing home case involving our father. He was very aggressive and settled our case professionally!
-CHERYL KRIDER
More Client Testimonials