Columbus Motorcycle Accident Attorney
Motorcyclists can suffer life-changing injuries in auto accidents, including shattered bones and traumatic brain injuries. It is our mission at Elk & Elk to hold at-fault drivers and other parties accountable for serious motorcycle accidents. We help victims recover the costs of their losses through insurance claims or the civil justice system. Find out how our experienced motorcycle accident lawyers can help today. Request a free consultation in Columbus, Ohio.
Motorcycle Accident Resources
Why Choose Our Motorcycle Accident Lawyers?
Our motorcycle accident attorneys have a reputation of success in Franklin County and throughout Ohio, with a total recovery of over $1 billion in verdicts and settlements for past clients.
We have more than 50 years of experience providing high-quality legal counsel to injured accident victims throughout the state.
We operate on a contingency fee basis, so we only charge for our services if we secure a financial award for the client. We do not charge anything up front.
Do You Need a Lawyer?
Because most motorcycle accidents result in serious injuries, a skilled Columbus motorcycle accident attorney may be invaluable for all your legal proceedings. At Elk & Elk, we can help provide support in your time of need, taking care of simple and complex processes while you are focusing on healing and recovery. This includes determining the full value of your case, as well as taking over communications with insurance companies in order to negotiate for a fair settlement.
Types of Motorcycle Accident Injuries in Columbus
In a motorcycle accident, the rider has no protection from injury other than a helmet and special clothing, if he or she is wearing them. The law does not make it mandatory for riders over the age of 18 to wear a helmet. With or without personal gear, however, serious injuries to motorcycle riders can be catastrophic.
Broken bones, especially in the arms and legs
Road rash and traumatic tattooing
Skull fractures
Traumatic brain injuries
Spinal cord injuries
Internal organ injuries
An injured motorcyclist in an accident could suffer permanent paralysis, brain damage, loss of organ function, or disfigurement. Although a successful claim will not reverse these injuries, it can provide financial stability to the victim while paying for expensive medical costs. If you lost a loved one in a motorcycle accident wreck, you may be eligible to file a wrongful death claim.
What Causes Motorcycle Wrecks?
Motorcycle accidents can be caused by a wide range of reasons:
Negligent and distracted drivers
Speeding and reckless driving
Drunk driving
Defective motorcycle parts
Unsafe road conditions
Hazards such as potholes or loose gravel
Dangerous weather
Regardless of who or what you believe caused your recent motorcycle accident, contact a Columbus personal injury attorney to discuss your rights. A motorcycle accident lawyer can gather evidence of negligence, such as photographs of the scene or eyewitness accounts, to help build your case and seek maximum compensation.
How is Fault Determined in a Motorcycle Accident?
Liability refers to legal responsibility for the accident and any resultant damages. Part of a personal injury lawyer's job is to determine the liable party in an accident claim. The liable party is the one most responsible for the crash. The motorcycle accident would not have occurred but for the liable party's actions. Proving liability will take establishing a duty of care, a breach of duty, causation, and damages. A lawyer can take this burden of proof for you.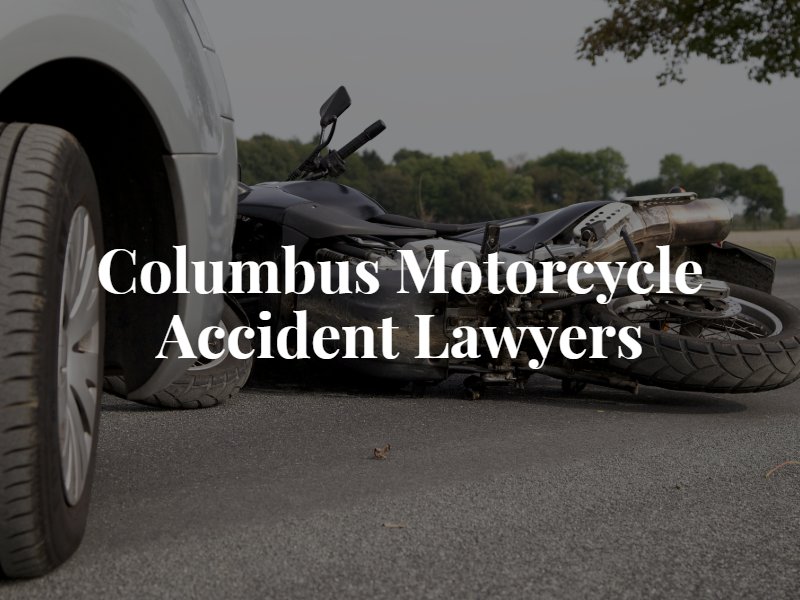 Should I Contact a Motorcycle Accident Lawyer?
Yes. You do not have to handle your Columbus motorcycle accident claim alone. The attorneys at Elk & Elk can provide legal services at no out-of-pocket cost to you. Let us help you fight for full recovery using a tailored legal strategy for your specific case. Call (614) 230-0634 to speak to a motorcycle accident attorney in Columbus today, or request a consultation online.
---
Client Review: 5/5
★ ★ ★ ★ ★
My peace of mind was more important in the end, than the dollar amount. Matt is exceptional at guiding an individual down the path of reason.
-Brian
More Client Testimonials