Columbus Bicycle Accident Attorney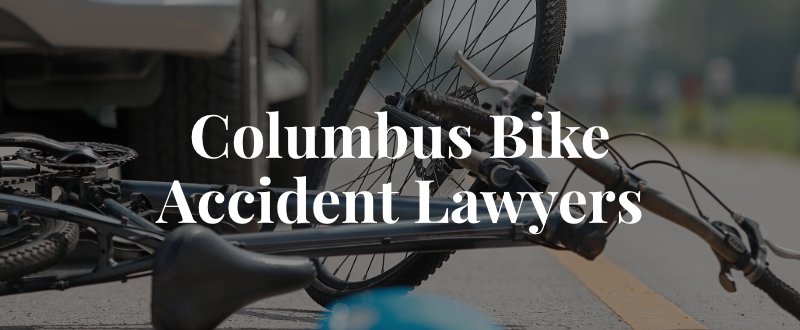 A bicycle accident could cause serious, life-changing injuries. A bicyclist may suffer a head injury, brain damage, bruises and lacerations, injuries to the spine, or broken bones. At Elk & Elk, we do not believe injured bicyclists should have to pay for their own medical bills and property repairs if others caused the collisions.
We work hard to bring at-fault parties to justice and to obtain fair compensation for our clients. To speak to a Columbus bike accident attorney about your recent bicycle accident in Columbus, call (614) 230-0634 today.
Why Choose Our Bicycle Accident Attorneys?
Our attorneys have earned more than $1 billion in verdicts and settlements for past clients.
We have represented citizens of Columbus for more than 50 years.
Our skilled bike accident lawyers tailor all legal decisions according to client needs and concerns.
We make the legal experience as hassle-free as possible, with offices throughout the state.
We only charge attorney's fees if we win the case, and do not charge any up-front fees.
Do You Need a Bicycle Accident Lawyer?
Going up against a driver's insurance company can be difficult alone. Insurance claims adjusters do not want to maximize your recovery. In fact, their jobs are to get you to settle for as little as possible to save the insurance company money. An attorney, on the other hand, works for you.
A Columbus bicycle accident lawyer can take over insurance settlement negotiations while you concentrate on getting better. Your bike accident attorney will not let anyone take advantage of you, and will not settle your case for less than its true value. Your lawyer may even be able to take the defendant to court if that is necessary for fair results.
How Do I Prove Fault?
A common defense tactic during a bicycle accident claim is to blame the crash on the bicyclist. A driver may try to argue that you were at least partially responsible for breaking a traffic law or not wearing a helmet. It is not legally mandatory to wear a helmet as an adult in Ohio. Therefore, a driver cannot use your lack of helmet wearing against you during an injury claim – even if you suffered a head injury.
Ohio Comparative Fault Laws
As for comparative fault, Ohio laws allow plaintiffs to recover at least partial compensation even if they are somewhat responsible. The courts will simply reduce the plaintiff's compensation award by his or her percentage of fault. Your attorney can help you gather minimize your fault for a bicycle crash to maximize compensation.
Most Common Causes of Bicycle Accidents in Columbus
Identifying the cause of your bicycle accident is one of the first steps toward obtaining compensation. You or your lawyer must determine how your crash occurred. The driver who collided with you might have been texting and driving, for example, or an overgrown shrub might have been concealing a stop sign. Hiring a bicycle accident lawyer at Elk & Elk will put you in touch with investigators who can determine the cause of your accident.
Distracted and negligent drivers
Drunk drivers
Drowsy drivers
Speeding
Poorly maintained vehicles (dirty windshields, etc.)
Roadway defects such as potholes
Poorly designed crosswalks
Concealed traffic signs
Bicycle part malfunctions
Our firm has gone up against drivers, property owners, city governments, product manufacturers, and large insurance corporations on behalf of badly injured bicyclists in Ohio. We have the personnel and resources to take on even the most challenging cases. Hold a negligent party accountable with our assistance.
Contact Elk & Elk Today
Hiring an attorney to handle your bicycle accident claim can help ensure a fair and just outcome. You can have peace of mind and time to dedicate toward healing while your lawyer works on your financial recovery. The Columbus injury lawyers at Elk & Elk have spent years navigating Ohio's bicycle accident laws for clients. We can help you obtain the compensation you need to move forward. Call (614) 230-0634 or contact us online today for more information.
Client Review: 5/5
★ ★ ★ ★ ★
My peace of mind was more important in the end, than the dollar amount. Matt is exceptional at guiding an individual down the path of reason.
-Brian
More Client Testimonials