Columbus Wrongful Death Attorney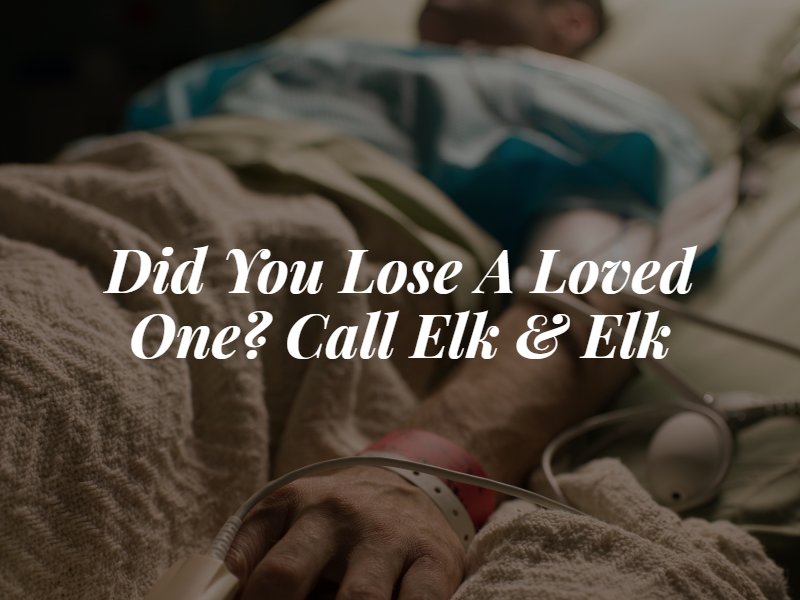 Wrongful death can cause extreme pain and suffering for surviving family members during already unfortunate situations. At Elk & Elk, our mission is to help families hold at-fault parties accountable for unexpected deaths. If you recently lost a loved one in an accident in Columbus, contact our firm for answers. Our Columbus wrongful death attorneys can help you fight for justice.
How Can Our Columbus Wrongful Death Lawyers Help?
Our firm has the resources, attorneys, and personnel to take on all types of wrongful death cases – even those with challenges such as multiple defendants.
Our Columbus wrongful death attorneys base their comprehensive legal strategies on your family's unique needs and goals, after spending time with you in an extensive consultation process.
We understand the financial stress your family is likely facing. We provide representation on a contingency fee basis, so you will only pay if we win.
Do You Need a Wrongful Death Attorney?
Navigating Ohio's wrongful death laws can be difficult on your own – especially as you simultaneously try to cope with your loved one's death. You may not fully understand your rights or the best legal option for your family. A lawyer can work through the facts of your case with you, helping you map a path forward. Your attorney can fight for fair compensation on your family's behalf while you focus on healing.
What Causes Wrongful Death in Columbus?
Unintentional injuries are a leading cause of death in the United States. Unintentional injuries can stem from accidents such as car crashes, drowning, slip and falls, poisoning, and workplace accidents. Negligence such as medical malpractice could also cause unexpected deaths. Intentional acts of violence can also cause wrongful death, such as stabbings or shootings. If you believe someone else's negligence caused your loved one's fatal injuries, you and your family may have a case for wrongful death.
Ohio Wrongful Death Laws
Ohio law defines wrongful death as a death that a wrongful act, neglect, or default causes. If the victim would have been able to recover damages in a personal injury action had he or she survived, the estate likely has grounds for a wrongful death claim. Although a Columbus wrongful death lawyer can navigate the state's laws on your behalf, knowing the basics can help you take action.
Limits on who can file. Only a personal representative of the deceased person's estate may bring a claim in Ohio. The decedent might have named a representative in a will, or else the courts will assign one during probate.
Deadline for filing. The personal representative has two years from the date of the individual's death to bring a wrongful death suit. The claim may seek damages on behalf of the estate and surviving family members.
Damages available. A successful claim could result in payment for reasonable funeral and burial costs, medical bills, pain and suffering, mental anguish, lost inheritance, and loss of care, dispensed to the estate and/or a surviving spouse, child, or parent.
Bringing a wrongful death claim could result in the financial compensation your family needs. Otherwise, you may not be able to afford to bury your loved one or pay for outstanding medical bills. Winning a claim could also hold the at-fault party accountable for your loved one's death. It could shed light on gross negligence in your community, and potentially save future lives.
Do You Offer a Free Consultation?
Yes, our wrongful death attorneys at Elk & Elk can help your family when you need it most. Our lawyers will meet with you at our local office, your home, or a hospital to discuss your potential case. Our investigators can help you identify who may be at fault for the fatal accident, and gather evidence against that party. We can then work with the personal representative of the estate to file and support your wrongful death claim. Our Columbus wrongful death attorneys could maximize your family's odds of financial recovery. Contact us or call (614) 230-0634 today for a free case review.