Just For Men Lawsuit
Just For Men® hair dye, beard and mustache dye products have been linked to severe chemical burns and allergic reactions, resulting in swelling, scarring and disfigurement.
Severe Injuries Using the Product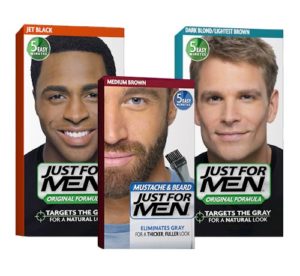 Like you, many men take pride in their appearance. Unfortunately, hundreds of unsuspecting consumers have endured horrific results after using a Just For Men product.
Recently, there have been a growing number of reports involving severe chemical burns, serious allergic reactions, and other facial injuries after using Just For Men hair and facial hair dye.
Possible Side Effects of Just for Men Products
Anaphylaxis
Facial Swelling
Severe Burning Pain on Skin
Sores on the Skin that "Weep"
Severe Itching
Blistering of Skin
Rapidly Spreading Skin Rash
Scarring
Permanent Pigmentation Loss
In many cases, problems with the hair color products occur long after the dye was first used. Reports indicate that hundreds of men, who had used the product without incident for years, suddenly suffered severe chemical burns and swelling of the face.
While some consumers have speculated that the company may have changed the formulation of Just For Men, Combe officials have publicly denied the allegations, claiming allergic reactions among men may be linked to changes in body chemistry among users.
Prevalent allergen
Just For Men hair, beard and mustache dye contains p-Phenylenediamine (PPD), a highly irritable and toxic organic compound. It was declared Allergen of the Year by the American Contact Dermatitis Society in 2006 and the medical journal Dermatitis listed it as the tenth most prevalent allergen in patch tests.
Ethnic differences
A 2001 Cleveland Clinic Foundation study found that African American men had a higher sensitivity rate to PPD (21.2 percent) compared to Caucasians (4.2 percent). Although it may be a true genetic difference, it is most likely related to patterns of use. It has been suggested that the difference is due to the fact that black persons are likely to use darker shades of dye, which contain higher concentrations of PPD.
Ineffective testing
In addition to containing irritating chemicals, Just For Men also lacks reliable procedures to test for reactions on delicate facial skin prior to use. While the dye's instructions call for a "patch test" on the arm skin to check for allergies, the skin on the face is much more sensitive. Men who show no reaction to the dye on their arm may have a completely different reaction to the mustache or beard dye on their face.
Have you suffered a serious injury after using a Just For Men product?
If you used Just For Men hair dye, or beard and mustache dye, and suffered a severe reaction or chemical burn, you may be eligible for significant financial compensation. Contact the products liability attorneys at Elk & Elk for a free, no obligation case review. Call 1-800-ELK-OHIO or contact us online today. We are ready to put our experience and resources to work fighting for you.
Just For Men® and the Just For Men logo are marks of Combe International Ltd. (USA) and are used solely for informational purposes.
---
Resources
DeLeo VA. "Contact allergen of the year: p-phenylenediamine." Dermatitis. 2006;17(2):53-55.
Dickel, Heinrich, et al. "Comparison of patch test results with a standard series among white and black racial groups." Dermatitis 12.2 (2001): 77-82.