Columbus Nursing Home Abuse Lawyer
Nursing home resident abuse and neglect can arise from criminal staff members, negligent management, or both. A loved one who suffers from elder abuse may never fully recover. If you have an elderly family member with damages from suspected elder abuse at a nursing facility in Columbus, do not hesitate to contact our Columbus nursing home abuse lawyers at Elk & Elk. We can take immediate action to protect and defend your loved one.
Elder Abuse Resources & Information
Why Choose Our Columbus Nursing Home Abuse Lawyers?
Our Columbus injury attorneys have a reputation for success. We have obtained more than $1 billion in results for our clients, including several six-figure outcomes on nursing home abuse and neglect cases.
Our attorneys can take on even the largest and most complex cases. We can go up against major corporations and established nursing facilities in the Columbus area using dedicated resources and personnel.
Our attorneys will only charge you for their services if your case ends in financial recovery. Our firm operates on a contingency fee basis, with zero up-front costs and free initial consultations.
Why Do You Need a Nursing Home Neglect Lawyer?
Handling an elder abuse claim on your own could put you at risk of unfair insurance company tactics. The nursing home's insurance company may severely undervalue your claim, or deny it even if you have valid grounds. A lawyer has the resources to fight back against insurance companies. You can rest assured that someone is standing up for your loved one's rights and fighting for fair compensation while you focus on your family.
Signs of Elder Abuse
The four types of elder abuse are physical, mental, sexual, and financial. Many cases of elder abuse in nursing facilities involve more than one type, such as physical and financial or mental and sexual. The outward signs of elder abuse can change depending on the type of abuse, severity of the case, and the individual victim. A few common red flags, however, may help you identify abuse when you see it.
Withdrawn behaviors
Social isolation
Lack of interest in previously enjoyed activities
Anxiety or depression
Feelings of guilt or shame
Refusal to eat
Weight loss or weight gain
Signs of malnourishment
Physical signs of abuse, such as strange bruising
Unexpected changes in mental status
Unkempt physical appearance
Mood swings
Broken bones or unexplained trips to the hospital
Unusual bank account activity
Elderly victims often remain silent about their plights. They may fear retaliation, or suffer from mental incapacities that do not enable them to come forward. It is often up to loved ones to notice possible signs of elder abuse and to speak up. If you notice any of the above-mentioned symptoms, your loved one may be the victim of nursing home abuse. Call an attorney immediately for further investigation.
Bedsores in Nursing Homes
Bedsores are signs that an elderly nursing home resident is not receiving enough attention from staff members. They form when an immobile resident remains in one position for too long, and they can have serious health complications for the elderly and may even cause wrongful death. If your loved one has bedsores, contact our Columbus nursing home abuse lawyers at Elk & Elk for legal counsel.
What Are Bedsores?
Bedsores, or pressure ulcers, happen when prolonged pressure cuts off blood circulation to part of the body. Over time, loss of blood supply can weaken and kill the skin's tissues, resulting in a sore. Bedsores are most common in patients with limited mobility – especially those in wheelchairs or on bed rest. Bedsores may affect the upper or lower layers of tissues depending on the severity of the damage. Extreme cases may extend down into the deep tissues, tendons, muscles, and bones.
Symptoms of a bedsore include red or white skin, swelling, unusual changes in skin texture, skin that feels too warm or cool to the touch, tenderness, and pus-like drainage from sores. The most common areas for bedsores are parts of the body that press against surfaces, such as the tailbone, shoulder blades, spine, and backs of the arms and legs. Relieving pressure on the area can heal the pressure ulcer, but the patient may need wound debridement and disinfecting if it is an open wound. Severe cases may require surgeries, especially if the bedsore causes a complication such as a bone infection or cancer.
Bedsores and Nursing Home Negligence
If caretakers do not turn or exercise patients often enough, patients can develop bedsores from too much pressure or friction. This is why a bedsore is a common sign of elderly neglect or abuse in nursing homes. High-quality nursing homes are proactive about preventing pressure sores. They keep organized schedules for when to turn or reposition each patient. They avoid other risk factors as well, such as moisture and malnutrition, by keeping elderly residents fresh, clean, and well fed.
Quality nursing facilities will avoid bedsores through proper physical care of a resident. Bedsores are always preventable with frequent enough movement and by keeping fragile skin dry and clean. Nursing homes can take additional measures for high-risk patients such as investing in special sheets, cushions, shoes, wheelchair pads, and beds. If your loved one has developed bedsores, it is a sign that he or she is not receiving adequate care.
Failure to move a patient at least once every two hours, failure to change dirty clothes or sheets, and not inspecting a patient's body for early signs of sores are acts of negligence that could point to elder neglect. As soon as you discover bedsores on your loved one, talk to an attorney about a potential case against the nursing home. You may be able to save other seniors in Columbus from the same fate and obtain compensation for your family member.
What to Do I Do If I Suspect Elder Abuse at a Columbus Nursing Home?
If you believe a nursing home is committing elder neglect or abuse against your loved one, tell someone. Call 911 immediately if you believe your loved one is in immediate, life-threatening danger. Otherwise, call local adult protective services to report your suspicions. Remove your loved one from the nursing home to a safe location, if possible. Wait for officials to investigate your claim. They may visit the nursing home and conduct an inspection. If your loved one suffered bedsores, broken bones, an infection, or another mental, physical, or financial harm while at the nursing facility, call Elk & Elk.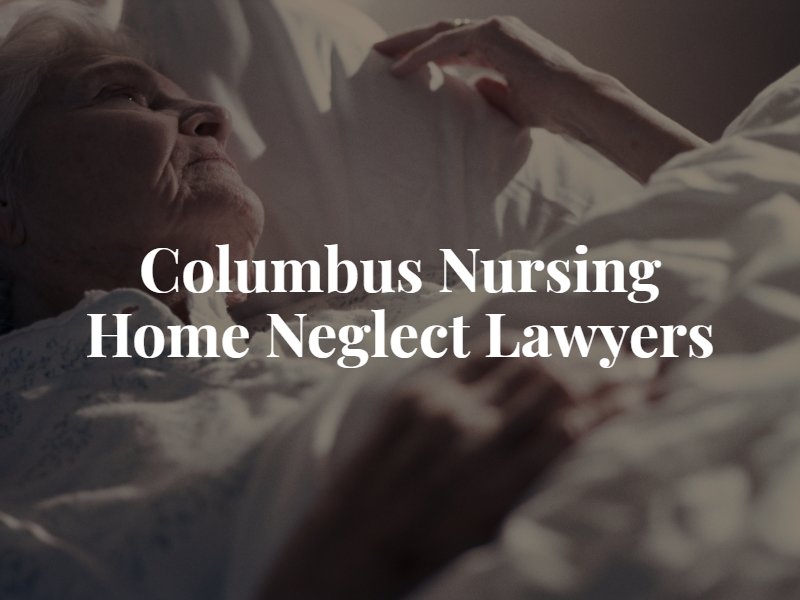 Contact Our Nursing Home Abuse Attorneys Today
Elder abuse at a nursing facility could be the beginning of the end for your loved one. He or she may suffer physical injuries or mental trauma that permanently alters his or her health status. At Elk & Elk, we are passionate about defending the rights of wronged nursing home residents in the Columbus community. Let us help you achieve justice and fair financial recovery. Call (614) 230-0634 today.