Do you need a doctor's note for time off of work after an injury?
Posted in Accident & Injury on October 29, 2018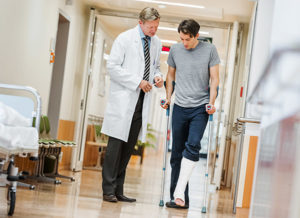 One of the biggest concerns for someone who has been seriously injured in an accident is if and when they'll be able to return to work. As the weeks go by and the bills pile up, the stress of not knowing when you'll earn your next paycheck can make it difficult to focus on your recovery.
Depending on your circumstances and the severity of your injury, some employers may give you a hard time for needing to take time off. If you find yourself in this situation, one simple step can strengthen your claim for lost wages and help you get back on your feet after an injury.
Why you need a doctor's note after an injury
Juries always question whether your doctor kept you off of work or whether the decision to stay home from work was your decision. Making a habit of always asking your doctor for a written excuse is an easy way to cure this problem at trial.
If you decide to stay home from work due to your injuries, members of the jury will often assume you're taking advantage of your situation. When this happens, the defense will question your credibility and whether you deserved any money for your lost wages, medical bills and pain and suffering. This simple argument leads many juries to conclude you deserved nothing and the whole case is a sham.
The "doctor's note" eliminates this argument, strengthens your credibility and solidifies your position with the jury. At the end of every appointment, ask your doctor for a note and make a copy for your personal injury lawyer. This little detail impacts your case tremendously.
About Elk & Elk Attorney William J. Price
William J. Price focuses his practice on personal injury litigation for people who have been seriously injured or killed as a result of medical malpractice, nursing home neglect, defective products, negligence in construction sites, and trucking and auto accidents. He has been recognized by Super Lawyers, Martindale-Hubbell, AVVO, and is a member of the Multi-Million Dollar Advocates Forum and Million Dollar Advocates Forum.