Why photos and videos are keys to winning your case
Posted in Accident & Injury on November 12, 2018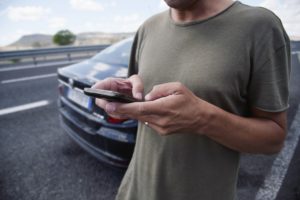 The aftermath of an accident can be chaotic, and it's easy to become distracted by everything going on at the scene. While anyone who was injured should seek immediate medical attention, it's also critical to be sure a family member or friend is taking photos and videos to document the scene.
Here is a simple checklist to ensure you cover your bases:
Any parts damaged on the exterior of the car
Any parts damaged on the interior of the car (steering wheel, dashboard, etc.)
Any damaged parts found by the repair shop after the accident
The entire accident scene
Any area of your body that is swollen, bruised, cut, or stitched by medical personnel
Broken glasses, torn or bloody clothes, casts, hospital rooms, etc.
The Defendant will present photos depicting the damage in the light most favorable to them. To protect yourself, you must take a variety of photos and videos in different light and at different angles to show the reality of the damage you suffered.
Videos are much more effective at showing the jury the impact the accident had on your life than verbally describing your struggles. Today's smartphones give you the ability to easily download your photos into a folder labeled with the date taken.
As you are recovering from injuries, take photos every other day and download them into the folder. Record videos of your therapy sessions, at-home exercise programs, and the daily struggles you're experiencing as a result of your injuries. If there are activities that you're unable to do, take more time to accomplish, or require assistance from other family members and friends – take a video. When you've completely healed, download all of these photos and videos onto a portable drive and turn it over to your lawyer.
A skilled lawyer will then be able to assemble the photos and video clips into a damages video demonstrating the severity of the accident caused by the Defendant and your timeline for the healing process. You, the client, will often have the opportunity to narrate the photo history by explaining those periods of time when the injuries were the most difficult, embarrassing, or caused the most anger. Using these techniques, your story will come to life for the jury and increase the value of your case tremendously.
About Elk & Elk Attorney William J. Price
William J. Price focuses his practice on personal injury litigation for people who have been seriously injured or killed as a result of medical malpractice, nursing home neglect, defective products, negligence in construction sites, and trucking and auto accidents. He has been recognized by Super Lawyers, Martindale-Hubbell, AVVO, and is a member of the Multi-Million Dollar Advocates Forum and Million Dollar Advocates Forum.