One simple way to strengthen your claim for lost wages
Posted in Accident & Injury on March 21, 2018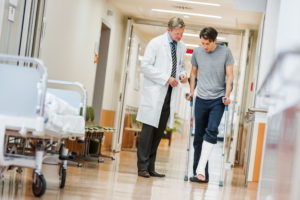 If you can't work after suffering injuries in an auto accident caused by another driver, it's reasonable to expect that you could recover your lost wages. This concept seems simple and fair. Unfortunately, when an insurance carrier is examining your claim, they may question or limit the time you can claim for lost wages from your injuries.
Insurance carriers are skeptical of claims for lost wages. If there is a reason for them to limit payment to you, they most likely will. If the time you take off is longer than a week, they will often argue you were healthy enough to go back to work. If your medical records indicate you are improving, there is a good chance your lost wages claim will be limited.
One easy solution to this problem is to ask your doctor for a written excuse. Your physician will sign off on a time period you should not go back to work, creating a record the insurance company can review. Even if your work does not require this, ask the doctor for one and provide a copy to your lawyer. This simple step can be very helpful to strengthen your claim.
If a doctor believes you should not be able to return to work, then it is difficult for insurance to argue the time period is suspect. In addition, most jurors have either worked for or know of an employer who would not allow a person to take sick time unless they have a doctor's excuse. This small piece of paper is all you need to firm up your claim for lost wages.
About Elk & Elk Attorney William J. Price
William J. Price focuses his practice on personal injury litigation for people who have been seriously injured or killed as a result of medical malpractice, nursing home neglect, defective products, negligence in construction sites, and trucking and auto accidents. He has been recognized by Super Lawyers, Martindale-Hubbell, AVVO, and is a member of the Multi-Million Dollar Advocates Forum and Million Dollar Advocates Forum.