When man's best friend isn't so friendly: Tips for avoiding dog bites
Posted in Accident & Injury on September 8, 2016
You're jogging down the sidewalk when, out of nowhere, an unfamiliar dog comes charging toward you. Do you run the opposite direction? Scream at the top of your lungs?
In this scenario, following your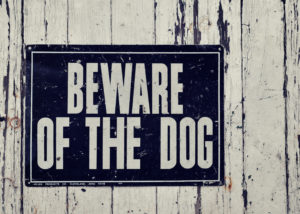 first instinct would probably be the worst decision you could make. Loud noises or sudden movements will further provoke the dog, and your odds of outrunning one are slim.
Being attacked by a dog is a traumatic experience, and can leave victims with serious or even fatal injuries. There's no surefire way to prevent an attack by an aggressive dog, but there are measures you can take to help deescalate the situation if one approaches you.
Follow these tips for avoiding dog bites on your walks, runs and bike rides.
4 tips for avoiding dog bites:
1. Be prepared
Carry pepper spray or an animal deterrent spray each time you go out for a walk, run or bike ride. A spare article of clothing, umbrella or extendable bite stick could also help distract or hold off the dog if an attack is inevitable.
2. Stand very still
The movements of runners and bikers often serve as a trigger for a dog's prey drive. As soon as you realize a dog is approaching you, stop where you are and turn slightly away from the animal.
3. Remain calm
An attacking dog instinctively takes advantage of "prey" that appears scared or weak. While you must avoid coming off as a threat, appearing calm and confident shows the dog you are dominant and in control of the situation.
4. Avoid eye contact
Dogs are not generally inclined to attack humans unless they feel threatened, but looking a dog in the eye signals a challenge. Keep the dog in your peripheral vision to help you track its movements without further provoking it.
Ideally the dog will realize you are not a threat and eventually lose interest, giving you a chance to slowly exit the area. If the dog proceeds to attack despite your efforts, do your best to protect your face, throat and chest, and keep your hands balled into fists to protect your fingers.
On the flip side
Be sure you're doing your part to prevent your dog from becoming aggressive with others. Always supervise your dog when it's outside or keep it contained in your yard. Watch for holes in your fence or other ways your dog could escape, as was the case when two Cane Corso dogs attacked an Elyria woman earlier this year.
All dog owners, especially those who own dogs considered dangerous or vicious, have a duty to keep their animal confined. Call 1-800-ELK-OHIO or fill out our online contact form for a free consultation if you or a loved one were seriously injured by a dog.