Should You Store Your Car for Evidence after an Accident?
Posted in Accident & Injury on May 5, 2014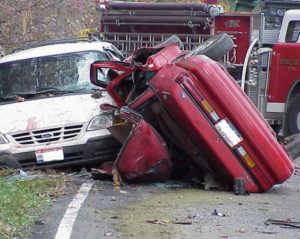 If you have recently been involved in an automobile accident and your car has been totaled, you might be tempted to simply rid yourself of the remaining metal scraps. However, your vehicle might contain important evidence related to the crash. In some cases, you may be required to have it placed in a storage facility while an investigation is ongoing. Unfortunately, you may also be responsible for paying the fees associated with storing the vehicle.
In addition to investigating your claim, a car accident attorney can help ensure the towing company does not engage in any deceptive or unfair practices. The Property Casualty Insurers Association of America (PCI) offers these important tips to avoid towing and storage scams:
Be prepared – You may already have access to reliable, reputable towing services via road side assistance benefits through your auto insurance carrier. Auto clubs and even credit card issuers also offer this benefit.
The choice is yours – When your car is in an accident, you should always have the opportunity to call your own tow truck and choose where your car goes, whether that is a body shop or even your driveway.
Get an itemized statement of charges – The towing company should give you an itemized statement of charges, and include clear information about how you can get your car back. Look for how much is being charged for storage per day, what kind of charges are listed, as well as a physical address (not a P.O. Box), hours and phone number of the storage yard.
Watch what you sign – Sometimes towing companies will include language preauthorizing a number of days of storage, or even repairs at a certain shop. Towing companies don't usually make such authorizations a requirement of providing the service.
Be wary of "Good Samaritans" – Many tow scams start with a "passerby" who offers to call a tow truck to be "helpful".
Don't just leave the car – If you leave your car by the side of the road, or park it in a lot, then leave the property, you're setting yourself up for a bad experience.
Safeguard personal information – Do not provide tow truck operators with your insurance information or personal lien holder information.
Be familiar with the law– Know that there are laws that say what a towing company can and can not do when towing your car from an accident scene, or other situations, a little homework can save you a lot of
aggravation, and a lot of money.
Sometimes, it can take anywhere from 10 days to 2 weeks to get a police report filed properly before a dispute over the collision may begin. While keeping your car in storage will preserve any evidence that needs to be reviewed during a case, the price tag that comes with it can run high, especially if the case drags out for a long period of time. Rely on a Columbus car accident attorney to help make sure that the person responsible for the accident foots the bill.