Back-to-School Safety: Sharing the road with school buses
Posted in Accident & Injury on August 18, 2017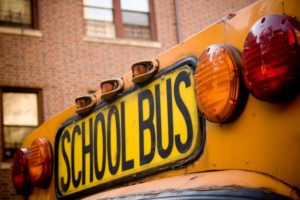 It's extremely frustrating to get stuck behind a school bus on your morning commute, but ignoring laws and guidelines for sharing the road can have dangerous consequences.
On average, 131 lives are lost in crashes involving school transportation each year. Over 1,300 people of all ages were killed in these types of accidents between 2006 and 2015.
Every motorist has a responsibility to follow bus safety rules to help keep our children safe. Follow these tips for sharing the road with buses throughout the school year.
4 Tips for Safely Sharing the Road with School Buses
1. Leave more room. When traveling behind a school bus, increase your following distance to leave time to react to any road conditions or debris blocked from your view. In Ohio, you're required to leave at least 10 feet of space between your vehicle and any stopped bus to give children room to get on or off safely.
2. Watch the lights. When yellow lights on top of a bus are flashing, be prepared for it to come to a stop to drop off or pick up children. Flashing red lights and an extended stop sign on the left side of the bus are signals for drivers in designated areas of the road to come to a complete stop until it continues on its route.
3. Know when to stop. On roads and highways with two or three lanes, vehicles approaching from either direction must stop at least 10 feet away from the stopped school bus. On roads with four or more lanes of traffic, only vehicles traveling in the same direction as the bus are required to stop.
4. Prepare for the unexpected. Kids love to horse around and often have trouble recognizing dangerous situations or traffic hazards. Even after a bus continues on its route, pay close attention to any children who got off and always yield if they try to cross the street, even if you technically have right of way.
If the roads you typically take are packed with buses, plan on leaving a few minutes early and do your best to stay patient. For those of us prone to road rage, it's probably best to explore alternate routes.
Check out these tips for avoiding back-to-school traffic risks to help keep everyone on the roads safe.