Ohio factory cited for safety violations
Posted in Workplace Injuries and Claims on August 20, 2013
Republic Steel has been cited for 2 dozen safety violations and is facing federal penalties in excess of $1.1 million. Fifteen willful violations were discovered at the company's steel manufacturing plant in Canton, Ohio.
The Occupational Safety and Health Administration (OSHA) inspected the plant after receiving a formal complaint from the United Steelworks Union which alleged inadequate fall protection and other unsafe practices. OSHA determined that two workers had been seriously injured in due to falls in the past year.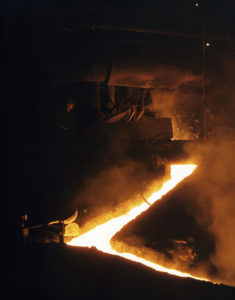 OSHA cited Republic Steel for several safety issues, including: tripping hazards and lack of protective equipment. The company also failed to provide fall protection for employees working at substantial heights – where agency officials found damaged and missing guardrails. In some instances, workers were exposed to falls above the slag pit, which is filled with molten metal. More than half of the violations were deemed "willful," meaning they were committed with intentional, knowing, or voluntary disregard for the law or indifference to employee safety.
This isn't Republic's first brush with OSHA. Just last year, the company reached a settlement at its Lorain, Ohio plant, promising to fix similar safety violations.
"Republic Steel has a long history of OSHA violations and disregard for employee safety and health," said David Michaels, assistant secretary of Labor for occupational safety and health. He called it "unacceptable" that the company has not taken more effective steps to improve safety at the Canton plant, particularly in light of the 2012 settlement."
Republic Steel has been in OSHA's Severe Violator Enforcement Program since 2011 for committing willful violations, repeat violations, and failing to fix hazards after being cited. As a corporate entity, Republic Steel has been inspected 79 times resulting in the issuance of six willful, 15 repeat, 145 serious and 70 other-than-serious final order citations.
Under the Occupational Safety and Health Act of 1970, employers are responsible for providing safe and healthful workplaces for their employees. For more information, contact our experienced Cleveland workplace injury attorneys by calling 1-800-ELK-OHIO (1-800-355-6446) or complete our free, no-obligation online form.