Ravenna Company Fined for Lead Exposure
Posted in Workplace Injuries and Claims on August 8, 2013
Spectrum Machine Inc. is facing $188,300 in penalties for exposing workers to dangerous levels of lead and copper fumes, according to an investigation conducted by the U.S. Department of Labor's Occupational Safety and Health Administration (OSHA). The Ohio company, which makes bronze and brass parts, received a total of 13 citations and was placed in OSHA's Severe Violator Enforcement Program.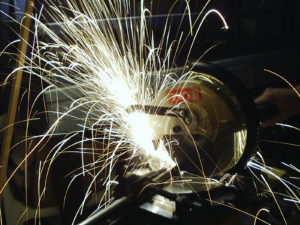 Spectrum Machine's Ravenna plant was cited for three willful safety violations for failing to monitor their employees for exposure to lead and failing to provide training about potential health hazards and necessary precautions to prevent lead exposure. The company also received citations for 10 serious violations, including failure to develop proper safety programs, provide fire extinguisher training, meet respiratory protection standards, and prevent worker exposure to dangerous copper fumes and lead. In some cases, the levels of lead were more than 15 times higher than permissible exposure limits.
Under the Occupational Safety and Health Act of 1970, employers are responsible for providing safe and healthful workplaces for their employees.
A willful violation is defined as "one committed with intentional, knowing, or voluntary disregard for the law's requirements, or plain indifference to employee safety and health."
A serious violation occurs when "there is substantial probability that death or serious physical harm could result from a hazard about which the employer knew or should have known."
In 2006, the company's Streetsboro plant also received 13 similar violations. "Failing to monitor worker exposure to airborne metal particles can result in severe illness," said Howard Eberts, OSHA's area director in Cleveland.  "By failing to develop a lead protection and hazard communication program, Spectrum Machine has demonstrated a lack of commitment to employee safety and health."
In Ohio, claims for workplace injuries are usually filed with the Bureau of Worker's Compensation. However, in some cases, an employee may also file an additional claim in civil court. Such cases, known as Employer Intentional Torts, are very complex and require a skilled employment law attorney.
For more information, please contact our experienced workplace injury attorneys by calling 1-800-ELK-OHIO (1-800-355-6446) or complete our free, no-obligation online form.
Sources: 
"Spectrum Machine cited for health violations in Ravenna" by Rachel Abbey McCafferty, Crain's Cleveland Business, August 7, 2013.
Spectrum Machine's current citations may be viewed at: http://www.osha.gov/ooc/citations/Spectrum_Machine_858103_0731_13.PDF