More American women die in childbirth than most industrialized countries
Posted in Health & Wellness on August 8, 2018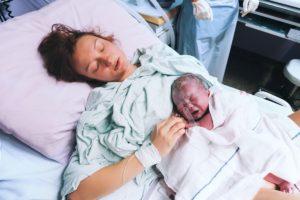 For nine long months, expectant mothers wait for the arrival of their child. And for most mothers, this is only the first chapter in a long story that is the life of a child.
But something is going on in the U.S. A concerning number of women are dying in childbirth or shortly after.
According to the Centers for Disease Control and Prevention (CDC), approximately 700 women die in the United States every year in childbirth or due to pregnancy complications.
According to the World Health Organization, 99 percent of maternal deaths occur in developing countries. Of those, approximately half occur in sub-Saharan African and approximately one-third occur in South Asia.
In most industrialized countries, maternal mortality has decreased. But in the U.S., maternal mortality has increased every year since 2000.
The maternal death rate in the U.S. is alarmingly high for black women:
White women in the U.S. – 12.7 deaths per 100,000 births
Black women in the U.S. – 43.5 deaths per 100,000 births
In comparison, the maternal death rate in 3.8 in Finland, 4.2 in Denmark, and 4.2 in Italy.
Why are maternal deaths so high in the U.S.? Unfortunately, the issue is not completely understood.
Many factors may affect maternal death rate in the U.S.: Women are waiting longer to have babies. C-sections are more common. Many women have no health insurance. Many have pre-existing health conditions. Doctors and other health care providers make mistakes during labor and delivery, and often fail to monitor maternal health after the baby is born. And the U.S. seems to prioritize infant health over maternal health.
Infant and maternal health are important public health issues that affect the entire U.S. population.
What is happening to Ohio's babies and mothers?
Infant mortality rate and premature delivery rate are on the rise in Ohio. More babies are dying within their first year of life, and more babies are being born prematurely than in years past.
In our recently published white paper, we take a closer look at the issue.
Read our free white paper: Protecting Ohio's Babies and Mothers: Understanding Premature Delivery Rates and Infant Mortality Rate In Ohio.