How your medical records can influence the compensation you receive after an accident
Posted in Accident & Injury on April 23, 2018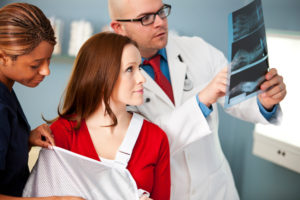 The things you say or fail to say to your doctors after an accident can be crucial to the outcome of your case. Most victims assume they will recover from their injuries within a few weeks of the accident. When an auto accident victim arrives at a doctor's office, they typically focus on the most severe injury and fail to bring up their smaller ones. Insurance companies can use this omission as a limitation on the victim's compensation.
Doctors record the subjective complaints of the patient once the exam begins. After a crash, accident victims commonly fail to be specific and thorough when advising the doctor of their injuries. Smaller injuries, which tend to be overlooked, often grow worse in the days or weeks after the accident. The further these complaints are removed from the date of the accident, the more likely the insurance carrier will not consider them for compensation.
For example, a person who hurts their neck and lower back in an accident, but fails to mention the back pain for 2 to 3 months following the accident will potentially be precluded from any type of payment for the lower back injury. This is a common problem.
Until your pain is completely resolved, don't be afraid to monopolize your doctor's time and identify every body part injured in the accident. Otherwise, you will never receive full compensation.
About Elk & Elk Attorney William J. Price
William J. Price focuses his practice on personal injury litigation for people who have been seriously injured or killed as a result of medical malpractice, nursing home neglect, defective products, negligence in construction sites, and trucking and auto accidents. He has been recognized by Super Lawyers, Martindale-Hubbell, AVVO, and is a member of the Multi-Million Dollar Advocates Forum and Million Dollar Advocates Forum.