Follow these tips for a fun and safe Fourth of July!
Posted in Accident & Injury, Health & Wellness on June 30, 2016
What do you have planned for the Fourth of July? From taking a mini vacation or hosting a cookout for family and friends to watching your local fireworks display, there are so many ways to enjoy this extended weekend. However, don't let an injury or legal trouble ruin it for you or your family. Follow our tips for safe and fun Independence Day celebrations.
3 Tips for a Fun and Safe Fourth of July:
1. Be prepared for record-level traffic.
AAA recently estimated 43 million Americans will be hitting the road between June 30 and July 4. If the organization's predictions hold true, it will be the highest travel volume ever recorded for this holiday period. Unfortunately, the National Safety Council also believes it could be the most deadly since 2008. Follow our tips for safe travel in heavy holiday traffic.
Most importantly, don't forget to designate a sober driver or arrange for alternate transportation for your Independence Day festivities. According to NCS, almost 40 percent of fatal crashes during the holiday period each year involve alcohol.
2. Prevent fires at your cookout.
Firing up the grill over the long weekend? Keep your family, guests and home safe by taking simple precautions to prevent fires and injuries at your cookout. Be sure your grill is at least 10 feet away from your home, deck railings and other flammable surfaces. Your grill should never be left unattended, and children and pets should not be allowed to wander around the area while you're cooking.
More grilling safety tips: Prevent Fires at Your Summer Cookouts
3. Be cautious about using fireworks.
First and foremost, check the laws in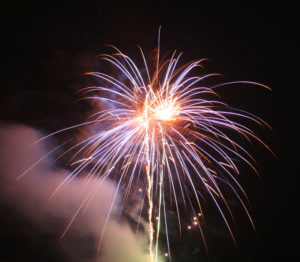 your area regarding consumer firework use before making a purchase. In Ohio, it is legal to purchase many types of fireworks, but only a handful are legal to set off within the state. Even if you're not at risk of legal consequences, all types of fireworks come with serious safety risks. Safe Kids Worldwide recommends giving children glow sticks to play with instead or sparklers or poppers, and it's safer for everyone if you leave the real fireworks to the professionals.
Don't forget your pets. Fourth of July can be a particularly stressful holiday for animals, so keep your pets inside during the fireworks display. Even if your pet is used to being outside or around people, the exceptionally loud noises and large crowds could cause them to panic or run.
However you choose to spend your holiday weekend, we hope your festivities are a blast. Happy Independence Day from all of us at Elk & Elk!