Do you have a road trip planned for Memorial Day Weekend?
Posted in Accident & Injury on May 27, 2016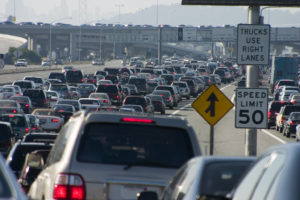 You're not alone. American Automobile Association (AAA) estimates nearly 40 million Americans will be hitting the road over the three-day weekend.
Unfortunately, the National Safety Council believes this could be the deadliest Memorial Day holiday since 2009. If the NSC's projections prove to be accurate, more than 400 lives will be lost and 50,500 people will be seriously injured in crashes.
Keep these 5 safe travel tips in mind as you get behind the wheel:
1. Put your phone away.
Despite numerous campaigns and programs designed to raise awareness about the consequences of distracted driving, over 650,000 motorists are using their cell phone or another electronic device while behind the wheel at any given time. Quitting this dangerous habit is one of the simplest ways to reduce the odds of a crash.
2. Turn off your hands-free system.
Many Americans falsely believe using their vehicle's Bluetooth system or voice-to-text capabilities while driving is safer than using their phone directly. However, multitasking is a myth – the human brain cannot perform two cognitive tasks at once. You could fail to visually register up to 50% of your driving environment while participating in this form of distracted driving.
If you need to place a call or send text, have a passenger do it for you or pull off at the nearest rest stop.
3. Buckle up.
According to National Safety Council estimates, over 100 lives could be saved over the Memorial Day holiday if everyone on the road wears their seat belt. Buckle yourself in, and be sure all of the passengers in your vehicle have done so as well.
4. Calm down.
Traveling in heavy holiday traffic can be incredibly frustrating, but driving aggressively is not the answer. Closely following other vehicles, weaving through traffic and making abrupt lane changes only puts you at greater risk of a crash. If the tables are turned and another driver is tailgating your vehicle, maintain your speed and carefully move over as soon as your path is clear to allow them to pass you. Drive defensively and keep an eye out for other drivers engaging in risky behaviors.
5. Watch your speed.
Although some highways in Ohio allow for speeds up to 70 mph, there is no need to travel much faster than this. Keep in mind that your risk of a deadly crash is doubled every 10 mph you travel over 50 mph. Also, construction zones are beginning to pop up again as the weather gets warmer. Watch for reduced speed limits and changing road patterns.
As always, please remember to designate a sober driver if you plan on drinking during any of your Memorial Day festivities. Click here for more safe travel tips.
Have a fun and safe holiday weekend!