Elk & Elk Partners to Speak at Case Western Reserve on Embryo Litigation
Posted in Firm News, Speaking Engagements on October 11, 2021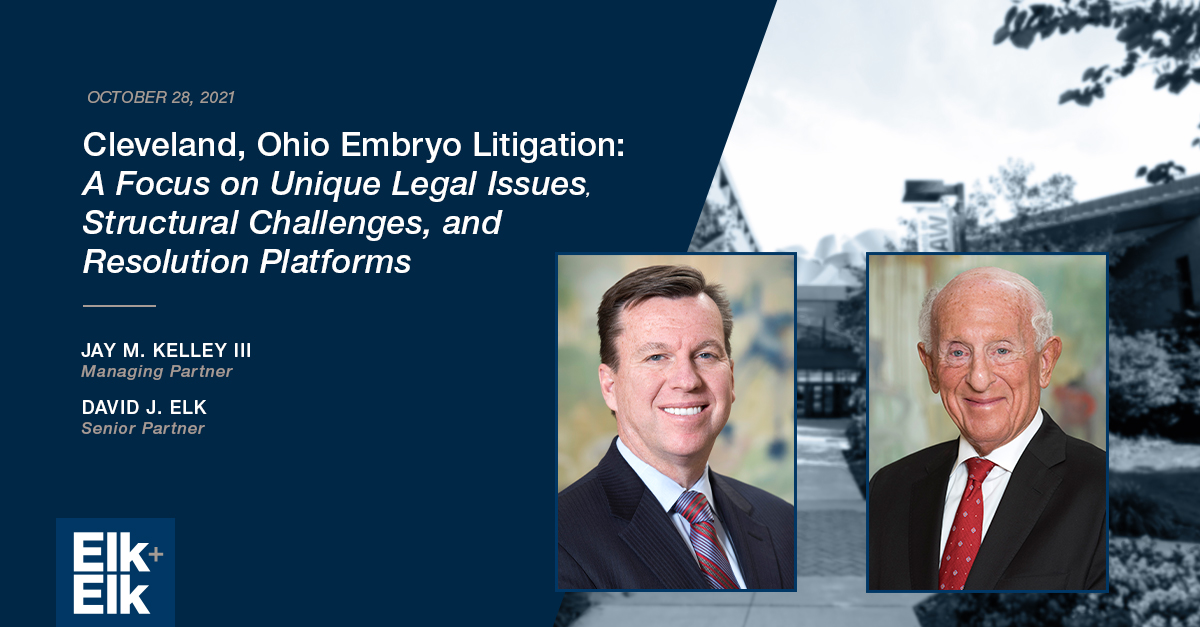 Elk & Elk Managing Partner Jay Kelley, and Senior Partner David Elk are prepared to present their extensive experience at the Cleveland, Ohio Embryo Litigation: A Focus on Unique Legal Issues, Structural Challenges, and Resolution Platforms at the end of October.
Cleveland, Ohio Embryo Litigation
Thursday, October 28, 2021
4:30 PM – 5:30 PM
Case Western Reserve University School of Law
11075 East Blvd
Cleveland, OH 44106
Click Here to Attend in Person
The lecture is free to the public and attendees can earn one continuing legal education (CLE) hour, pending approval. It will cover three topics presented by the recent litigation in Cleveland regarding the loss of frozen eggs and embryos at a fertility clinic.
Topics for Discussion:
Lack of clear laws in Ohio and what type of case this would fall under
Challenges when taking a case with hundreds of plaintiffs and almost 100 different firms
Structure of resolution and the challenges in a way that is fair for each claimant
Jay Kelley has been managing partner at Elk & Elk since 2017 and first became a partner in 2011. His main practice areas focus on civil trial work in cases that include medical malpractice and wrongful death. He has presented well over 80 cases to juries and has been the lead counsel on cases in more than 30 counties.
In 2018, during the egg and embryo lawsuit against University Hospitals, Jay was appointed court liaison/lead counsel.
Jay was awarded "Lawyer of the Year" in 2021 for Medical Malpractice Law in Cleveland. Since 2016, he has been included in The Best Lawyers in America® for Medical Malpractice Law and Personal Injury Litigation. He has also been featured every year since 2009 in the Top 50 Cleveland Super Lawyers and Ohio Super Lawyers.
David Elk has been a personal injury lawyer representing thousands of victims who have experienced medical malpractice and wrongful death for over 56 years. He founded Elk & Elk with his brother and has been able to create one of the largest injury law firms in Ohio.
Dave believes that quality legal representation allows all people to level the playing field against the big insurance companies. He is a member of the Million Dollar Advocates Forum and the Multi-Million Dollar Advocates Forum, is listed in the Who's Who Top 10 Members in Law, and the Top 100 National Trial Lawyers.