Elder Abuse: Signs, Prevention and Where to Turn for Help
Posted in Consumer Protection, Firm News, Health & Wellness, Medical Malpractice on March 5, 2021
Elder abuse is a major societal problem. It occurs when someone knowingly, intentionally or negligently causes harm—or a serious risk of harm—to a vulnerable person.
COVID-19 has done nothing to help the situation. In fact, PBS discovered a strong correlation between the pandemic and nationwide cases of elder abuse and mistreatment. They cited a report from researcher Duke Han, who noted a "massive increase in reports of elder abuse during the pandemic."
Too many times the care provided to an elderly parent or sibling is nowhere close to what the nursing home promised.
Craig McLaughlin, Partner and Columbus nursing home abuse lawyer at Elk & Elk
Key Facts
The World Health Organization published important data about elder abuse.
Around 1 in 6 people 60 years and older experienced some form of abuse in community settings during the past year.
Rates of elder abuse are high in institutions such as nursing homes and long-term care facilities, with two in three staff reporting that they have committed abuse in the past year.
Elder abuse can lead to serious physical injuries and long-term psychological consequences.
Elder abuse is predicted to increase as many countries are experiencing rapidly aging populations.
In Ohio, approximately 16,000 reports of abuse, neglect and exploitation are made each year. Sadly, the National Institutes of Health estimates that these reports represent only one in 14 cases.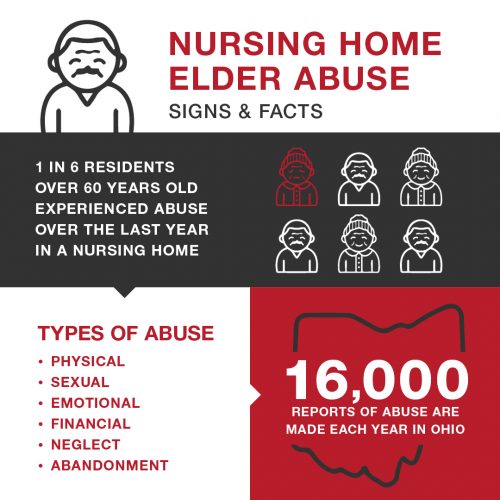 Signs of Elder Abuse
Warning signs of elder abuse can vary. There may be physical, financial or behavioral clues. If you spot any signs, don't ignore them. The Ohio Department of Aging lists these indicators:
Physical

Bruises, cuts or other signs of physical harm
Sexual

Bruises on genitals or inner thighs; new sexually transmitted diseases; problems walking or sitting
Emotional

Sudden behavioral changes, such as becoming less social; low self-esteem; mood swings
Financial

Unexplained, sudden transfers of assets or finances to an individual; missing belongings and/or property; abrupt changes to financial documents
Neglect

Hazardous/unsanitary living conditions; dehydration, malnutrition or poor personal hygiene; over-or under-utilization of prescribed medications or missing medications
Abandonment

Appears lonely, depressed and/or scared; looks frail or malnourished
How an Ombudsman Can Help
The Ombudsman program advocates for residents of nursing homes, board and care homes and assisted living facilities. Ombudsmen provide information about how to find a facility and what to do to get quality care. They are trained to resolve problems.
Every state has a long-term care ombudsman office that works to promote and protect the rights of residents in nursing homes, assisted living facilities and other residential care communities. The offices work with residents to address problems related to their health, safety and rights.
If a resident, family member, representative or staff member is worried about a resident's care, they can file a complaint with the ombudsman's office. Information about Ohio's ombudsman program can be found on the Department of Aging's website.
What Does the Long-Term Care Ombudsman Program Do?
The goals of the program, according to the National Long-Term Care Ombudsman Resource Center, are as follows:
Educate residents, their family and facility staff about residents' rights, good care practices and similar long-term services and supports resources
Ensure residents have regular and timely access to ombudsman services
Provide technical support for the development of resident and family councils
Advocate for changes to improve residents' quality of life and care
Provide information to the public regarding long-term care facilities and services, residents' rights and legislative and policy issues
Represent resident interests before governmental agencies
Seek legal, administrative and other remedies to protect residents
What to Do if You Suspect Abuse
If you suspect an elder you know is being abused or neglected, there are options for help. BrightFocus Foundation lists the following:
In an emergency, call 911 or your local police.
Call the Eldercare Locator at 1-800-677-1116 for information and/or a referral.

The Eldercare Locator is a national service that will help callers identify services and information in their own communities.
Contact your local Adult Protective Services Agency (APS).

A directory of all state-level APS agencies can be found here.
Contact your long-term care ombudsman.

Find the ombudsman in your state or community here.
Filing a Complaint in Ohio
The Ohio Department of Health handles claims against health care facilities and nursing homes. More information on how to file a complaint can be found in this  Guide to Filing a Complaint Against a Health Care Facility. To file a complaint you may obtain a complaint form for completion by clicking this Complaint Form link. You can also call 1-800-342-0553.
Contacting an Attorney
If your loved one is being neglected or abused in a nursing home or other long-term care facility, you have legal options. The Ohio nursing home attorneys at Elk & Elk have the skills, resources and experience to help victims of elder abuse. Call 1-800-ELK-OHIO or contact our team online for a free, no-obligation consultation.