Alternative transportation options for older adults
Posted in Health & Wellness on September 14, 2018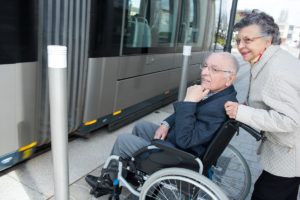 Having a car and driving is something many of us take for granted.
For senior drivers who are about to stop driving, the loss of independence can be a difficult thing to go through.
Fortunately, there are transportation options available to help seniors get around, attend medical appointments, run errands, etc. Learning what ride options are available and figuring out how to use them can be overwhelming. But with practice and help from friends and family members, this is not an impossible task.
Here are some options for individuals and families to consider:
Senior Transportation Connection:
Rides for medical and personal reasons are available through the Cleveland Senior Transportation Connection. Adults age 60 and older are eligible. Two one-way trips are available each week to riders, and the fare is $1.00.
Hours of operation are Monday through Friday, 8:30 a.m. – 4:30 p.m.
New riders must call 216-664-2833 to sign up.
Greater Cleveland Regional Transit Authority
The RTA offers rail, bus, and trolley options. With a RTA Senior ID card, senior riders ride the bus, HealthLine, and Rapid Transit at a discounted rate (less than half of the standard rate).
The RTA offers Travel Training courses to seniors who need help learning the city's public transportation system. The RTA website also has a plan a trip option.
A helpline is available Monday through Friday, 7:00 a.m. – 6:00 p.m., and Saturdays from 8:00 a.m. – 4:30 p.m. They can be reached at 216-621-9500.
Church-provided rides
Many churches provide rides to and from services, and some offer rides to medical appointments and elsewhere.
If the individual is affiliated with a church or congregation, visit the church's website or call the office to find out what options are available.
Friends and family
Some people are hesitant to ask friends, neighbors and family members for rides. But these individuals are often more than happy to help, especially when the individual is no longer able to drive.
Friends, neighbors, and family members can provide transportation for grocery store shopping, medical appointments, errand running, and other trips.
With proper planning, seniors who no longer drive can remain active and get around town. Help from family members and loved ones will prove invaluable as seniors making this transition.