Safety Tips for Drivers 65 and Older
Posted in Accident & Injury on August 14, 2018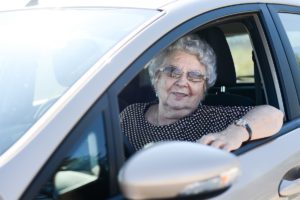 A recent study by the AAA Foundation For Traffic Safety found that 83 percent of older drivers never initiate a conversation about driving safety with a family member, doctor or concerned loved one.
The Foundation is recommending that family members talk to their loved ones early about aging and driving safety. Talking to a loved one before safety is a concern is one way to avoid a sudden, panicked conversation.
According to the National Highway Traffic Safety Administration, 18 percent of all traffic fatalities involve drivers and passengers age 65 and older.
Here are 3 tips that can help guide a conversation about driving safety with an aging loved one:
Be compassionate and understanding:
For many adults, driving means independence. The thought of that independence being taken away can be devastating – a reminder of getting older. Conversations need to be framed from a safety standpoint,
Driving may still be a possibility:
Many older drivers are able to safely continue driving. There is no specific age at which a driver becomes an unsafe driver. But it is important to have a conversation if you notice new behaviors or patterns that may affect driving safety:
Is the driver getting lost on familiar routes?
Is the driver suddenly becoming nervous or hesitant to drive?
Has the driver been involved in any near-crashes lately?
Has the driver developed a health condition that may affect driving safety?
Discuss transportation alternatives:
Giving up driving doesn't mean giving up mobility and independence. Talk to your loved one about transportation alternatives, which may include Senior Transportation Connection, public transportation, church-provided transportation, scheduled rides with friends or family members, etc.
When you talk to a family member or loved one early, you can avoid emotional conversations and brash decisions.
And remember: Driver safety is important at any age. Every driver should consider ways to increase safety while driving and be open to adopting safe driving habits.