5 Things You Should Know About Autism Spokesperson Temple Grandin
Posted in Community Outreach on May 15, 2017
Elk & Elk is proud to once again sponsor the Milestones Autism Spectrum Disorder Conference in Cleveland. This year, Milestones Autism Resources is hosting A Special Evening with Temple Grandin at Playhouse Square to kick off the annual conference. 
Temple Grandin is a world-renowned autism spokesperson, known for her unique ability to express "an inside narrative" of the disorder. She rose to fame in the autism community as one of the first individuals with autism to share their experiences and perspectives publicly.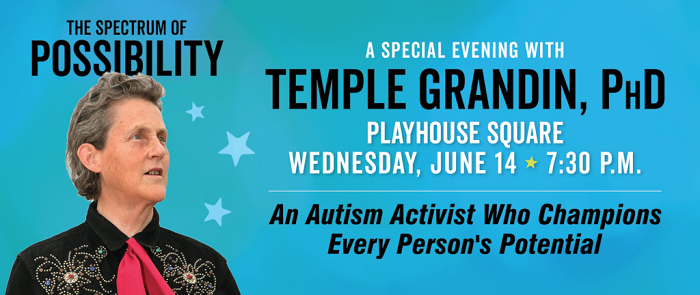 Reserve your tickets for A Special Evening with Temple Grandin today, and read on to learn five interesting facts about the must-see speaker.
5 Things You Should Know About Temple Grandin
1. She is a pioneer in the field of animal sciences.
Temple Grandin earned both her masters and doctoral degrees in animal sciences, and has been a professor at Colorado State University for more than 20 years.
According to Grandin, her autistic senses and emotions are very similar to those of animals and give her the ability to analyze situations using sensory-based data instead of language. Her designs for humane livestock handling systems have greatly improved animal welfare and quality standards in the meat and livestock industries.
"In my work with cattle, I noticed a lot of little things that most people don't notice would make the cattle balk," she explains in her 2010 TED Talk. "For example, this flag waving right in front of the veterinary facility. This feed yard was going to tear down their whole veterinary facility; all they needed to do was move the flag."
2. She is one of the most influential people in the world.
TIME Magazine's annual "TIME 100" list honors the world's leaders, trailblazers and icons. Each year, the publication highlights the accomplishments of individuals from a wide variety of backgrounds and industries. Temple Grandin was featured on the list of 2010 honorees alongside Barack Obama, Oprah Winfrey and Steve Jobs.
"But as with many psychological disorders, autism is a spectrum, and Temple is on one edge. Living on this edge has allowed her to be an extraordinary source of inspiration for autistic children, their parents — and all people. She is also a source of hope for another mammal: the cow. Using her unique window into the minds of animals, she has developed corrals for cattle that improve their quality of life by reducing stress." – TIME 100
Read Temple Grandin's full TIME 100 profile.
3. HBO made a movie about her life.
In 2010, HBO produced an award-winning film about Temple Grandin's childhood, career and accomplishments. Christopher Monger and William Merritt Johnson based the screenplay for the "visually inventive" biopic on her books "Emergence" and "Thinking in Pictures."
The movie was directed by Mick Jackson and stars Claire Danes, Julia Ormond, Catherine O'Hara and David Strathairn. "Temple Grandin" won several Primetime Emmy Awards, and Danes earned a Golden Globe and Screen Actors Guild Award for her portrayal of Grandin.
4. She was recently named to the National Women's Hall of Fame.
In February, the National Women's Hall of Fame named Temple Grandin to its list of 2017 nominees. She is one of 10 inductees who will be honored this year, joining more than 250 of the country's most influential women in the Hall's ranks.
"Honoring Dr. Temple Grandin in this esteemed group of women not only speaks to the power of her research and advocacy, but also her impact as a role model for young women everywhere.
Early in her career, her determination helped her break into what was a largely male-dominated animal production industry, and she continues to serve as an advocate for women in the sciences, for young people with autism, and for anyone unwilling to let artificial boundaries stand in the way of their personal and professional success."
– Colorado State University President Tony Frank
The 2017 National Women's Hall of Fame induction ceremony takes place in historic Seneca Falls, New York, in September.
5. She is an established author.
Despite the fact that she did not speak until she was nearly four years old, early therapy and interventions enabled Temple Grandin to become one of the first individuals with autism to share their experiences and perspectives with the world.
Grandin has written extensively on both autism and animal science. She has authored or co-authored dozens of books and peer-reviewed scientific papers on a wide variety of topics including autism, livestock handling, environmental enrichment and animal safety.
Visit www.templegrandin.com for more information about her most popular books and new releases.
Want to mingle with Temple Grandin before the kick-off event on June 14? VIP tickets include a pre-show reception, preferred seating, book signings, and photo opportunities. Get your tickets today!