The Spectrum of Possibility: A Special Evening with Temple Grandin
Elk & Elk is excited to join Milestones Autism Resources in welcoming internationally acclaimed autism advocate Dr. Temple Grandin to Cleveland for a special presentation at Playhouse Square on June 14.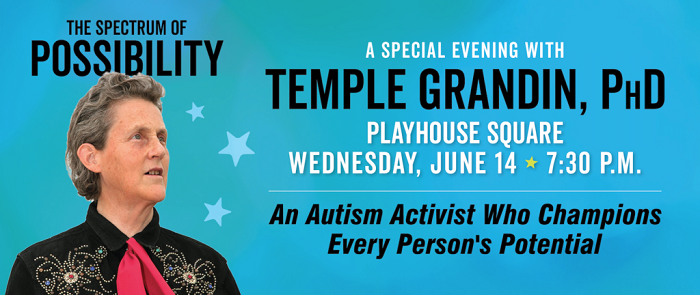 The Spectrum of Possibility: A Special Evening with Temple Grandin
A Special Evening with Temple Grandin kicks off the annual Milestones Autism Spectrum Disorder Conference. During the event at Playhouse Square's State Theatre, the world-renowned autism advocate will invite audience members into the mind of a person living with autism and share the unique experiences and perspectives that enabled her extraordinary success. She will discuss the interventions, therapies and supports that aided her journey and offer wisdom on raising and teaching individuals with autism.
Temple Grandin is a highly sought-after speaker in the autism community and a professor of animal science at Colorado State University. She is the author of numerous books and academic papers on both autism and animal behavior, and was the subject of an award-winning HBO biopic starring Claire Danes. In 2010, she was recognized as one of TIME magazine's "100 Most Influential People," and the National Women's Hall of Fame recently named her to its list of inductees for 2017.
Tickets for A Special Evening with Temple Grandin are just $10 when purchased with a conference registration package. Prices range from $35 to $75 for the general public, and a $250 VIP package is also available.
A Special Evening with Temple Grandin
2017 Milestones Autism Conference Kick-Off Event
Wednesday, June 14 at 7:30 PM
State Theatre at Playhouse Square
Visit templegrandin.com to learn more about the speaker.
About Milestones Autism Resources
Milestones Autism Resources helps parents, professionals and individuals in Northeast Ohio affected by autism. Milestones supports the local autism community by providing education, coaching and training for all ages, stages and abilities. The organization has served thousands of people affected by autism since it was founded in 2003, and its website offers over 1,000 resources. Visit milestones.org to learn more about Milestones Autism Resources.