100 Deadliest Days: 5 Dangers to Discuss with Your Teen Driver
Posted in Accident & Injury on June 23, 2017
Did you know we are in the middle of the "100 deadliest days" for teen drivers?
Over the past five years more than 1,600 people were killed in crashes involving teen drivers between Memorial Day and Labor Day and in recent weeks, tragic accidents have claimed the lives of several Ohio teens.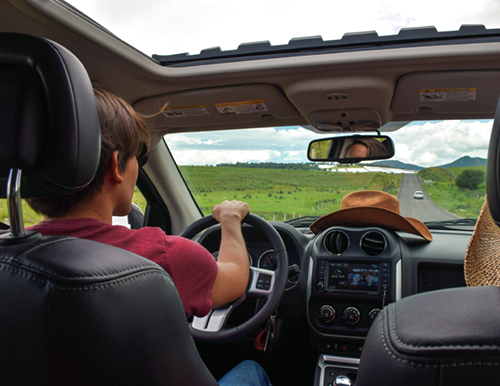 According to research by the AAA Foundation for Traffic Safety, 16- and 17-year-old drivers are three times more likely to be involved in a fatal crash than adults and these incidents jump 15 percent during the summer months.
Reduce your child's risk of becoming a statistic by regularly setting aside time to discuss risky driving behaviors. Make the most of these valuable opportunities by covering each of the top dangers teens face on the road.
5 Driving Dangers to Discuss with Your Teen
1. Speed – Excessive speed is a factor in about a third of all fatal crashes. Several smartphone apps allow parents to monitor their child's speed behind the wheel, and some vehicles are equipped with technology that limits the maximum speed when a teen is in the driver's seat.
2. Technology – Texts and calls aren't the only distractions putting teen drivers in danger – social media, games and apps, navigation systems, satellite radio, headphones and even Bluetooth systems can all pose deadly risks. Distractions should also be minimized when the vehicle stops at a light or stop sign to help keep pedestrians out of harm's way.
3. Other Teens – Passengers are a very serious but often overlooked distraction. Experts say adding one passenger increases the risk of a crash by 50 percent, and a second passenger nearly doubles it. In Ohio, drivers cannot have more than one non-family member in the car during the first year after earning a license.
4. Impaired Driving – Most parents don't want to consider the possibility that their teen uses drugs or alcohol, or that they would drive while impaired or ride with someone who is. This attitude of denial is a common reason the discussion is avoided altogether. Follow these tips for starting a conversation about impaired driving.
5. Driving at Night – Half of all accidents occur at night, even though we only do a quarter of our driving during those hours. The odds of a run-in with an impaired or drowsy driver are much greater at night, so your teen should always stay on high alert for unusual or erratic behavior and drive defensively.
Want to make your teen's commitment to safe driving official? Have them sign Elk & Elk's Drunk & Distracted Driving Pledge.