4 tips to keep your teen driver safe in winter road conditions
Posted in Accident & Injury on December 8, 2016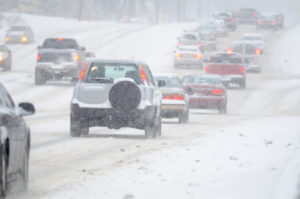 Driving in winter weather is a dangerous challenge for even the most skilled motorists. While it may be tempting to take away your teen driver's keys at the first sign of snow, there will come a time when they will need to brave the winter roads. Wouldn't you rather them be prepared?
Follow these four tips to help keep your teen driver safe in winter road conditions:
1. Prepare your teen's vehicle for the season.
Complete all of the recommended seasonal vehicle maintenance, and upgrade the tires and wiper blades if the weather in your region gets particularly nasty in the winter. Stock your teen's car with an ice scraper and brush, windshield deicer, a small shovel, an emergency kit and blankets. Keep a bag of cat litter in the trunk to melt ice and snow in a pinch.
2. Explain the different types of dangers they might encounter.
Snow isn't the only hazard motorists face in the winter. Be sure your teen knows how to recognize freezing rain, sleet and black ice, and is aware of the threats posed by each. This information is especially important to review with teen drivers who were licensed in the spring or summer, and may have only experienced these dangerous winter road conditions from the passenger seat.
3. Review the best approaches for driving on snow or ice.
Remind your teen to adjust their speed for the road conditions, not the speed limit. Explain how to brake safely on snow and ice, and how to regain control of the vehicle if they feel it beginning to slide. Reinforce the importance of maintaining a greater following distance than usual and a heightened awareness of nearby vehicles.
4. Find a safe place for your teen driver to practice.
The best way to prepare your teen for driving in winter weather is to give them opportunities to face their fears (and yours) in a controlled environment under adult supervision. When the snow starts to fall, find an empty parking lot and let them test their skills. Demonstrate how to properly apply the braking and correcting concepts you've reviewed.
Having a newly licensed driver in the household can be a significant source of stress for any parent, but the dangerous road conditions associated with this time of year often intensify parents' fears. Taking the proper steps to prepare your child for the challenge of driving in winter weather will offer peace of mind to you and your teen driver.