Winter Home Fire Prevention
Posted in Accident & Injury on January 28, 2015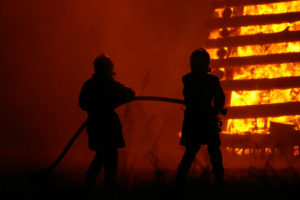 As frigid temperatures sweep across the country, injuries and deaths are on the rise from a surprising source—fire. In fact, 50 percent of all home heating fires are reported during the months of December, January and February.
The number of home fires increases during cold snaps because people will use whatever sources they have available to get and stay warm. Unfortunately, some heat sources may not be used properly, are not intended for home heating, or may be in need of repair.
Second only to cooking fires, heating fires are one of the leading causes of home fires. Follow these tips to keep your family safe this winter:
Remember the 3-Feet Rule. Keep all potential sources of fuel like paper, clothing, bedding or rugs at least three feet away from space heaters, stoves, or fireplaces.
Never leave portable heaters and fireplaces unattended. Turn off space heaters and make sure any embers in the fireplace are extinguished before going to bed or leaving home.
Use space heaters carefully. If you must use a space heater, place it on a level, hard and nonflammable surface, not on rugs or carpets or near bedding or drapes. Keep children and pets away from space heaters. Never use an extension cord for electric heaters.
Never use a cooking range or oven to heat your home. This can be a fire hazard as well as a source of toxic fumes.
Keep the fire in your fireplace. Use a glass or metal fire screen large enough to catch sparks and rolling logs.
Replace your smoke alarms every 10 years. Smoke alarms wear out. If you can't remember when you last replaced them, buy new alarms that are interconnected if possible. Install them using manufacturer's instructions or hire an electrician for alarms that are hard-wired into your home's electrical system.
Install a carbon monoxide alarm. Make sure it is marked with the Underwriter's Laboratory (UL) safety listing. Follow the manufacturer's recommendations for placement in your home.
Have working fire extinguisher. The National Fire Protection Association recommends an extinguisher for each floor. Select a multi-purpose extinguisher that is large enough to put out a small fire, but not so heavy as to be difficult to handle.
Remember, many communities offer free smoke detectors and installation for vulnerable portions of the population. For more information, contact your local Red Cross chapter or neighborhood fire department.