Trampoline Parks Lack Regulation
Posted in Accident & Injury on September 4, 2013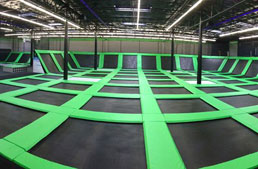 Kids love to jump – on the bed, sofa, bounce houses, and especially, trampolines. Indoor trampoline parks are springing up across the country. Mostly housed in old warehouses, these facilities are filled with a sea of interconnected trampolines and other high-flying activities.
Know the risks
If time has taught us anything, it's that trampolines are inherently dangerous. And it's not just the falling-off part that is fraught with risks, there are other dangers, too. Since the rise in popularity of back-yard trampolines, mounting data has revealed that even just the simple act of jumping with another person can be risky. "Double jumping" or a "double bounce" can cause serious injuries as one person lands while another tries to jump. Kids have also been injured as they collide with one another or land on metal springs and frames. Add into the mix jumpers hurtling through the air as they attempt extreme acrobatic moves, and you've got a recipe for disaster.
Just ask Stephen Merrill. The Utah college student was seriously injured when he went to an indoor trampoline park with some friends two years ago. He jumped into a pit full of foam blocks, but instead of landing softly, he "shot right through them" and landed headfirst at the bottom. The impact fractured vertebra in his neck. Stephen is now paralyzed from the neck down.
The landing pits are not the only source of danger. Scores of children, teens, and adults have suffered from shin fractures, chest fractures, ankle injuries, knee injuries, torn tendons and ligaments, spinal injuries and even brain damage while just jumping on a trampoline.
Legislation needed
Owners of the trampoline parks claim that serious injuries are rare. But how do we really know? These parks remain largely unregulated, so no official injury statistics exist. As the ERs fill up and lawsuits have begun to mount, some state lawmakers have started to push for regulations. Legislation is pending in California and Utah that would create inspection programs, employee training and mandatory injury reporting.
Although there are at least a dozen trampoline parks in Ohio (with more in the works), there are currently no federal or state regulations for these facilities. That means there are no standards for first aid training, no protocols for the removal of injured jumpers across scores of unsteady trampolines, and no one to make sure the facilities are safe or require the owners to carry a suitable amount of insurance.
For the naysayers out there that doubt a trampoline park can be dangerous, here are some sobering facts from a 2009 study by the American Academy of Pediatrics:
Trampoline Injuries in the United States
70 injuries occurred for every 100,000 kids between 0 and 4
160 injuries per 100,000 kids ages 5 to 14
98,000 injuries a year are treated at hospital emergency rooms
If you still choose to bring your child to a trampoline park, be sure to read the waiver carefully. Before they jump, remind your kids to follow all safety rules and obey staff members' instructions. Additionally, don't be afraid to set personal ground rules for your kids, such as no flips or other limitations. Just remember, despite your best efforts, this unregulated activity may pose serious risks to jumpers of all ages.
Source:
"Rising trampoline injuries spur local laws for jump gyms" CBS/AP August 12 2013.