The 12 Tips of Christmas Safety
Posted in Accident & Injury on December 7, 2012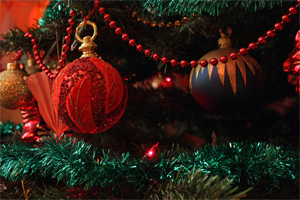 The holidays are full of all kinds of fun activities for families, from decorating the Christmas tree, to lighting candles and opening presents. We get so focused on enjoying these events that we may fail to recognize potential dangers posed by some of the items we use as decorations or for wrapping gifts.
One of the greatest risks associated with the holidays is fire. Every year across the country, an average of 300 fires are started by Christmas trees. These fires caused an average of 13 deaths, 27 injuries, and $16.7 million in direct property damage annually. Many of these fires could be avoided if people had followed some simple steps to protect themselves and their families.
As you decorate your home and plan for holiday gatherings, here are 12 things for you to keep in mind:
1. Keep trees away from heat sources. Place your Christmas tree away from any heat sources such as fireplaces and radiators and water it regularly to prevent it from drying out. Cut off about two inches of the trunk to expose fresh wood for better water absorption.
2. Tree trimmings are flammable. Use only non-combustible or flame-resistant tree trimmings. And choose tinsel or artificial icicles that are plastic or made of non-leaded metals. Leaded materials are hazardous if children swallow them.
3. Decorations can be dangerous. Avoid decorations that are sharp or breakable. Keep trimmings with small removable parts out of the reach of children. Small pieces could be swallowed or inhaled.
4. Don't burn wrapping paper. Wrapping paper should not be burned in a fireplace, because a flash fire may result as wrapping paper can ignite suddenly and burn intensely. So be sure to remove all wrapping paper, bags, ribbons and bows from the fireplace area after gifts are opened.
5. Use appropriate decorations. Indoors or outside, use only lights that have been tested for safety. These are identified by a label from an independent testing laboratory, such as UL or ETL/ITSNA. And if you are decorating outside, be sure to use only lights and decorations that are approved for outdoors. Keep electrical connections off the ground and away from metal rain gutters. Use insulated tape or plastic clips instead of metal nails to hold them in place
6. Damaged lights can be a hazard. Check each set of lights for broken or cracked sockets, frayed or bare wires, or loose connections. Discard damaged sets or repair them before using.
7. Don't leave the lights on all the time. Turn off all lights on trees and outdoor decorations when you go to bed or leave the house. Lights could short and start a fire.
8. Never connect more than one extension cord together. Instead use one cord that is long enough to reach the outlet without stretching, but not so long that it can get easily tangled.
9. Check your child's toys. Before your child opens and plays with a new toy, be sure it is age appropriate. You may shop very carefully and keep safety in mind when buying toys for your children. But a well-meaning friend or family member may unintentionally buy your child a toy with parts that are too small for their age.
10. Protect your children from flames. Keep matches, lighters and candles out of the reach of children.
11. Keep watch when cooking. Unattended cooking is the leading cause of home fires in the United States. When you are cooking for holiday guests, make sure you keep an eye on the range.
12. Some decorations can cause irritation. To avoid skin and eye irritation, wear gloves when decorating with spun glass "angel hair." To avoid lung irritation, read container labels carefully and follow directions when using artificial snow sprays.
The personal injury lawyers of Elk & Elk want everyone to have a safe and happy holiday season. Don't let any part of your holiday season ruin your joyous celebrations.