Things to Do Following a Car Accident
Posted in Accident & Injury on August 29, 2013
Any motor vehicle accident can be incredibly overwhelming. Whether it's a minor fender bender or major damage, a few bumps and bruises or serious injuries, it is very important to remain calm and collected. There's a lot to think about. To be prepared, here are a few tips I have as a car accident attorney to help you through the process.
One way to prepare is to ensure that you have all the information you will need to share with the other party. Make sure that you have a pen and a piece of paper so you can write down their information. You will need their name, address, contact phone number or e-mail, as well as the make and model of their vehicle, the license plate number, and their insurance carrier and policy number.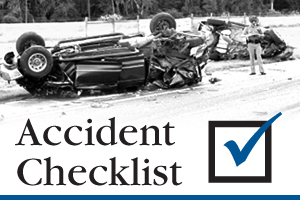 As a car accident lawyer, I know how stressful being in a crash can be. The very first thing that you should do is to think about your safety and the safety of others. Move your vehicle off the road if you can. If you or someone else is injured, call 911. If there is significant damage to the vehicle or debris in the road, call the police. If there is minimal damage or you need to see if anything has happened, you can choose to simply swap information with the other driver.
Once you start talking, be sure to watch what you say. Even if you feel bad about what happened, resist the urge to apologize or admit fault in any way. Your statements may used against you later by the police or insurance companies. If the police are called, make sure that in addition to the other driver's information, you get the officer's name, badge number, and the police report number. This will make filing a claim easier and help your car accident lawyer access the information when needed.
Remember to utilize all the resources available to you: The police,  emergency medical staff, and an experienced attorney are there to help when you need it the most.
For more information, download our FREE Accident Checklist to keep in your car.