Thanksgiving travel expected to increase
Posted in Accident & Injury on November 19, 2012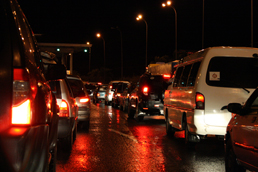 This week, most of us will be taking some time off of work, getting together with our families to enjoy some turkey and stuffing and remembering all that we have to be thankful for. As you celebrate Thanksgiving, be sure to pay extra attention as you travel.
More than 43.6 million Americans are expected to travel at least 50 miles from home this Thanksgiving holiday (Wednesday through Sunday), according to estimates from AAA. If those numbers hold up, this will be the fourth consecutive year of increased Thanksgiving travel for Americans.
Of those 43.6 million Americans, 90 percent will be traveling by car, a 0.6 percent increase from 2011. Many will be traveling shorter distances than last year, likely in part due to higher gas prices. But in some good news, travelers should see some relief at the pump as the average price of gas has been dropping for the past few months. The national average dropped by nearly 40 cents a gallon since early October and is likely to continue dropping through the end of the year. As of Monday, in Cleveland, the average price of gas is around $3.43.
If you are one of the more than 3 million Americans traveling by plane during the Thanksgiving holiday, the Transportation Security Administration has a few tips to help you speed up your trip through the airport security process.
Call TSA Cares with medical issues: Travelers with disabilities and medical conditions should contact the TSA Cares helpline (855-787-2227) before their travel dates to see if they need to take any extra steps or if they qualify for extra assistance to clear security.
Don't wrap presents: A TSA officer may have to unwrap gifts to inspect the contents.
Ship desserts in advance: While cakes and pies are permitted on airplanes, your creation may require further inspection and may not necessarily be permitted to board. Consider baking once you get to Grandma's house.
Follow the 3-1-1 rule: Most liquids can be carried in bottles that hold 3 ounces or less, once placed in a quart-sized, clear, plastic, zipped bag to hold all of your small bottles. There's a limit of one bag per passenger.
That liquid rule includes snow globes: You can bring small snow globes as carry-on luggage as long as they are less than 3.4 ounces and packed in your 3-1-1 bag. If you're not sure, leave the globe at home or ship it. Otherwise, it may get seized.
If you are planning on traveling this week, the personal injury lawyers of Elk & Elk urge you to use caution so your trip and your holiday are something you and your family can be thankful for. As always, pay attention to the road and not your cell phone, wear your seat belt and drive defensively, not aggressively.
Have a safe and fun Thanksgiving holiday.