Tackle the Tower Stair Climb Race & Walk
Posted in Community Outreach, Health & Wellness on January 8, 2014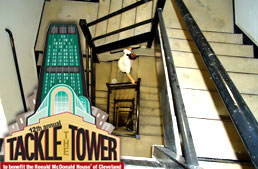 The newly formed Health and Wellness Committee at Elk & Elk invites you to join us and register for the 12th annual Tackle the Tower Stair Climb to benefit the Ronald McDonald House of Cleveland on Saturday, February 8, 2014. Participants will climb 37 flights of stairs at the Tower at Erieview, located in the Center Court of the Galleria & Tower at Erieview, 1301 E. 9th Street in Downtown Cleveland.
The race starts at 9:00 a.m. in Stairwell B. Runners will be lined up in the order that their entry was received and will start every 10 seconds.
If you're not a runner, you can still get plenty of exercise while helping a good cause by joining the Fun Walk at 8:45 a.m. in Tower A.
3rd Annual Fireman's Team Challenge Traveling Trophy
Firehouses from near and far will be competing in the Firefighter Race, beginning at 10:30 a.m., with the firefighters running in full gear. The firehouse with the most participating members wins the Fireman's Team Challenge. Stick around to cheer them on – they'll be carrying 50 lbs. of equipment.
Team Challenge
New for 2014, teams will compete in one of three divisions: Male, Female or Co-ed. Teams must consist of 4 members. Co-ed teams must have 2 males and 2 females. Top 3 teams in each division win prizes!
Many Hearts. One Home.
Ronald McDonald House provides families a comfortable place to rest while their children receive medical treatment in area hospitals.
We encourage you to go the extra step to help the families staying at RMH Cleveland by raising pledges. Set up your own personal donation page through FirstGiving – you can personalize your page and set a fundraising goal.
Registration
For more information about registration, sponsorship opportunities, or volunteering at the event, go to www.rmhcleveland.org/tackle.
Online registration is open until Tuesday, February 4, 2014 at 9:00 a.m.
The Elk & Elk Health and Wellness Committee is dedicated to promoting the health and well-being of our employee's lives through health education and activities that will support positive lifestyle changes and creating a supportive environment in order to help our employees achieve all aspects of a healthy life: physical, emotional, financial, occupational, social, and intellectual.