Student Hit While Exiting School Bus
Posted in Accident & Injury on October 30, 2013
Last week was National School Bus Safety week. The idea began in 1964 and has grown to a national event. Schools and other organizations across the country mark the occasion by distributing safety materials and urging motorists to drive carefully.
Unfortunately, not everyone headed the warnings. On Wednesday, a vehicle ignored school bus warning lights and struck a 15-year-old Perry School District student.
News reports indicate that the high school student had exited the bus and started walking across the street when a silver Chrysler LHS drove around the bus and collided with the boy. He was knocked into the windshield and thrown to the side of the road. Emergency crews initially transported the teen to Madison Medical Center, but his injuries required him to be flown to MetroHealth Medical Center.
As of the time of this writing, neither the name of the victim nor the identity of the driver have been released, pending charges.
School Bus Safety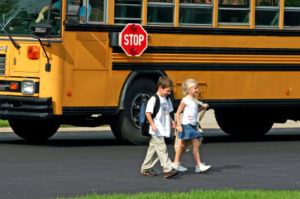 Ohio Revised Code 4511.75 requires all motorists to stop at least 10 feet from a school bus anytime it has stopped to load or unload. When stopped, school buses in Ohio display red flashing lights as well as a stop sign on the side of the bus. Motorists may not resume motion until the red lights stop flashing, the extended stop sign is withdrawn, and the bus begins moving. If driving on a 4-lane roadway, the driver need not stop for a school bus approaching from the opposite direction.
Elk & Elk asks that you remind your child to follow these rules while getting off and on the bus:
Always remain in direct eyesight of the bus driver
Get to the bus stop in plenty of time
Take 10 giant steps back from the curb while waiting for the bus and 10 steps when exiting the bus
Never try to get anything left on the bus after exiting
Never reach underneath the bus
Always follow the driver's directions for how to cross the street
Be alert to traffic and look both ways
Always cross in front of the bus, but only when the bus driver signals it is safe to do so
Bus drivers in Ohio are required to file reports with law enforcement when motorists pass them illegally. In some communities, cameras are being used to facilitate this reporting.
Source:
"Vehicle hits 15-year-old Perry student crossing at bus stop" The News-Herald, October 25, 2013