September School Safety: Why speeding in school zones can be deadly
Posted in Accident & Injury on September 3, 2019
Throughout the month of September, we'll be sharing safety tips to protect our students in and around their schools and buses. Stay tuned for more posts in our September School Safety Series.
Have you ever wondered why speed limits are so low in school zones?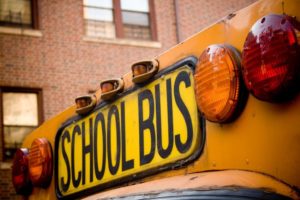 When it comes to car accidents involving pedestrians – especially young children – just a few miles per hour can mean the difference between life and death. An average pedestrian hit at 20 mph has a 93% chance of surviving. As cars accelerate to 25 mph, 30 mph, and higher, these odds quickly drop.
Data from a 2011 AAA Foundation for Traffic Safety report showed a pedestrian accident is 70% more likely to be deadly if the vehicle is traveling 30 mph instead of 25 mph. One in five pedestrians won't survive a crash involving a vehicle going 30 mph.
While these studies and statistics focused on accidents involving adult pedestrians, the risks for children and teens are clear. Whether students are distracted while they're walking or trying to cross the street in an unsafe way, school zones are a hot spot for potential accidents. Factors including the student's weight, the size of the car, and the angle of the crash can all play a role in how seriously the victim is injured.
Administrators and law enforcement can mark and enforce speed limits and safe pick-up and drop-off points, but every driver is also responsible for doing their part to keep kids safe. As students in your area head back to school in the coming weeks, be sure to keep your speeds low and your eyes on the road.
When a student is injured in a school zone crash, the whole family suffers. If your child was hurt, an experienced injury attorney in our office can help you understand your legal options.
About Elk & Elk Attorney Michael Eisner
Michael joined Elk & Elk in 2006. He has been seeking fair compensation for injured people since 1996 and is very proud of the difference he has made for many victims of others' neglect. His practice includes representing people who have been injured or killed as a result of motor vehicle crashes, animal attacks, dangerous workplaces, and hazardous conditions on others' property. Michael has earned recognition by Super Lawyers, Martindale-Hubbell®, and other well-known legal recognition forums.