New Mobile App provides recall information
Posted in Accident & Injury on June 10, 2013
The National Highway Traffic Safety Administration (NHTSA) has announced the release of a free mobile app that will provide real-time recall and vehicle safety information to consumers.  Using data from the NHTSA's Safercar.gov site, the "Safer Car" app allows users to search its 5-Star Safety Ratings for vehicles by make and model. Users will be able to access information about recalls, car seat installation, as well as file a safety complaint.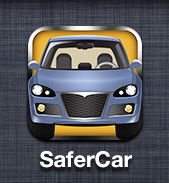 According to their website, the new SaferCar app will allow consumers to receive important news and information from the NHTSA. Users may also subscribe to receive automatic notices about specific vehicles.
"Safety is our highest priority, and we're always working to find new and better ways for people to access SaferCar, one of the most popular programs on our website," said U.S. Transportation Secretary Ray LaHood. "This app takes advantage of the latest technology to ensure that consumers have the real-time information they need to buy safe, drive safe and stay safe."
Product Information*
Several online reviews found that the app is easy to use, but recall searches only go back to 2000. The NHTSA's website allows for more comprehensive searches, dating as far back as the 1949 model year.
The SaferCar app can be downloaded from Apple's iTunes Store. It requires iOS 5.1 or later and is compatible with iPhone 3GS, iPhone 4, iPhone 4S, iPhone 5, iPod touch (3rd generation), iPod touch (4th generation), iPod touch (5th generation) and iPad. Development is also underway for a version compatible with Android devices, but no release date has been set at the time of this posting.
Sources:
"NHTSA Unveils 'SaferCar' App for iPhones," U.S. Department of Transportation, March 21, 2013.
 *Reference in this web site to any specific commercial products, processes, or services, or the use of any trade, firm or corporation name is for the information and convenience of the public, and does not constitute endorsement, recommendation, or favoring by Elk & Elk Co., Ltd.