Recall alert: Contigo Kids Cleanable Water Bottles
Posted in Product Liability, Product Recall on March 2, 2020
Beverageware company Contigo announced another recall of its kids' water bottles. The issue is a detaching spout that poses a choking hazard to children.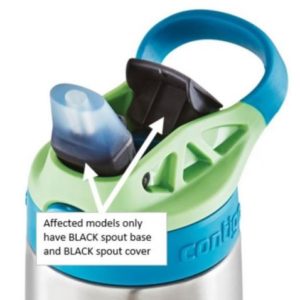 Contigo has received 427 reports of detached spouts. Twenty-seven spouts were discovered in children's mouths.
The recall is for water bottles with a black spout base and black spout cover. The product comes in three sizes (13, 14 and 20 ounces) and various colors, materials and graphics.
Contigo sold 5.7 million units of its Kids Cleanable Water Bottles. They were available online and in Costco, Walmart, Target and other stores. The company recalled the same product in August 2019.
The United States Consumer Product Safety Commission has advice for consumers – stop using the recalled water bottles and take them away from kids. Contact Contigo for a free replacement water bottle. Visit them online at gocontigo.com/recall or call 888.262.0622.
Learn more about product recalls here.
If you or a loved one has been injured by a defective product, call 1-800-ELK-OHIO or fill out a free, no-obligation contact form.