Concussions: Reducing the Risks for High School Athletes
Posted in Accident & Injury, Health & Wellness on August 2, 2016
On Monday, Aug. 1, high school athletes around the state officially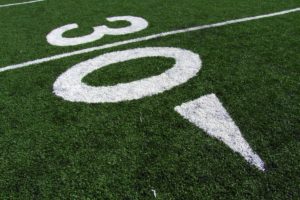 kicked
off their training for fall sports. Last year, Ohio High School Athletic Association introduced new regulations to help prevent concussions during football practices, but athletes in every sport are at risk of suffering this common injury. The first match-ups of the season are only a few weeks away, so take this time to learn the symptoms of a concussion and steps you can take to reduce your child's risks.
What causes a concussion?
Concussions, usually caused by a blow to or violent shaking of the head and body, are the most common type of traumatic brain injury. Compared to other types of injuries, recovering from a concussion can be a relatively quick process. However, early detection is the key to preventing further damage or long-term consequences.
Difficulty thinking clearly, concentrating or remembering new information
Dizziness, nausea or vomiting
Sensitivity to light or noise
Tips for reducing concussion risks in youth and high school athletes
Participation in sports can be a great experience for kids of all ages, but safety should always come first. Follow these tips to reduce your child's concussion-related risks:
Consider baseline testing.
A trained health care professional can measure and interpret your child's reaction times, balance and other cognitive processes to determine his or her standard performance. The results of these baseline tests can prove very helpful when determining the seriousness of the injury and recovery progress, but should not be used alone to diagnose a concussion.
Educate and empower your child.
You won't be on the field or court to monitor your child's health during games and practices. Educate them about the risks and symptoms of concussions, and encourage them to inform a coach or seek medical attention if there's even a small possibility they suffered an injury. Remind your child it's better to miss one game than the whole season.
Don't rush recovery.
Athletes who resume activity while the brain is still healing increase their risk of suffering a second concussion or permanent brain damage. Symptoms can last anywhere from a few days to a few months, and are different for every person. If your child has suffered a concussion, the CDC recommends this 5-Step Return to Play Progression.
Check out these guides for tips on avoiding concussions in your child's particular sport.
Best of luck to all of our area athletes as they enter their upcoming seasons!