Zimmer Persona Knee
In March 2015, the FDA issued a notice of Zimmer's voluntary Class II recall for its Persona® Trabecular MetalTM Tibial Plate because of "increased loosening and radiolucent lines." According to the FDA's website1, about 11,658 units are involved in the recall, which covers all sizes and lots of the product.
The Persona Trabecular Metal Tibial Plate is one component of the Zimmer Persona Trabecular Knee System. Distributed from 2012 through January 2015 by Zimmer Inc., the Persona knee was marketed as "The Personalized Knee System." Unfortunately, in just a few years, the Persona knee has been linked to numerous failures and complications from patients all over the United States.2
Do I Have a Claim?
The experienced Medical Device attorneys at Elk & Elk are actively pursuing Zimmer Persona knee claims. Recipients of the Zimmer Persona knee may be eligible for substantial compensation if they have experienced any of the following injuries: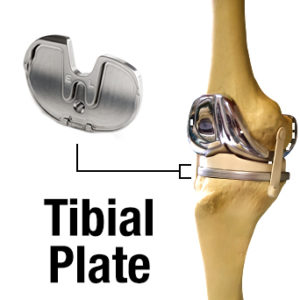 Knee Pain

Loosening

Knee Replacement Failure

Revision Surgery

Removal (Explantation)
What is a Tibial Plate?
The Tibial Plate is a metal part placed on the end of the patient's shinbone, or tibia, during knee replacement surgery. If the plate is not seated properly, gaps between the plate and bone can occur, which appear in medical imaging as "radiolucent lines."
According to an "Urgent Medical Device Recall,"3 which Zimmer mailed to medical providers, "Out of the complaints received, 36% identified symptomatic radiolucent lines or were revised for loosening."
Loosening of the Tibial Plate implanted during a total knee replacement or partial knee replacement can be extremely painful. Patients who experience loosening may have trouble walking and usually require additional surgery to remove and replace the loose tibial plate.
Knee Revision Surgery
Revision surgery to remove a faulty knee component can be costly, takes longer than the original procedure and has the potential for serious complications. After identifying their implants as defective or faulty, many people elect to file lawsuits or claims against the manufacturers to cover the cost of surgery, the pain and discomfort of recovery, and loss of wages.
Don't Delay – Preserve Your Legal Claim
If you or someone you love has been affected by this recent Zimmer recall, call our Medical Device attorneys today at 1-800-ELK-OHIO or contact us online for a free consultation. At Elk & Elk, we take care of the upfront costs involved in developing a strong personal injury case. Our clients pay nothing unless we have a successful outcome.
---
Resources:
1. FDA. (March 12, 2015). Class 2 Recall Persona Trabecular Metal Tibial Plate. Retrieved from http://www.accessdata.fda.gov/scripts/cdrh/cfdocs/cfRes/res.cfm?ID=133978
2. U.S. Food and Drug Administration. (December 3, 2014). MAUDE adverse event report: Zimmer Inc. Personal Cemented Stemmed Tibial Plate. Retrieved from http://www.accessdata.fda.gov/scripts/cdrh/cfdocs/cfmaude/detail.cfm?mdrfoi__id=4425614
3. Swissmedic – Schweizerisches Heilmittelinstitut. (Mary 3, 2015).