Elmiron Linked to Serious Eye Damage
What is Elmiron?
Created by Janssen Pharmaceuticals, Elmiron (pentosan polysulfate sodium) is a commonly prescribed blood-thinning medication that has been available since 1996. It's used to treat osteoarthritis and interstitial cystitis, better known as painful bladder syndrome.
Did you suffer vision problems after taking Elmiron?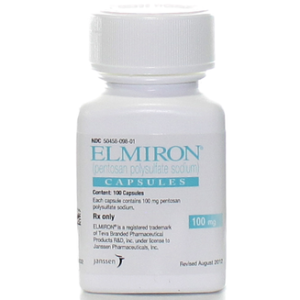 Elmiron patients may not know they have suffered damage from the medication. Instead, they may assume their vision issues are due to old age or other factors.
Research has linked Elmiron to a serious eye condition called retinal maculopathy, a never-before-seen disease where the pigment cells within the eye's retina literally change color. This change creates major problems within the eye, similar to what happens with age-related macular degeneration.
If you or a loved one has been diagnosed with vision problems after taking Elmiron for painful bladder syndrome, you may be entitled to significant compensation. Call 1-800-ELK-OHIO or contact us online for a free case review.

Symptoms associated with Elmiron damage
Blurred vision
Dark spots in center of vision
Straight lines appearing curved
Muted colors
Eye pain
Trouble reading
Difficulty adjusting to dim lighting
Elmiron can cause problems even after patients have stopped taking the medication. If you've experienced any of the symptoms above—or been diagnosed with retinal maculopathy, retinal pigmentary endothelium or age-related macular degeneration—contact Elk & Elk today.
Elk & Elk is here for you
The attorneys at Elk & Elk are ready to take in your Elmiron claims. If you suffered eye damage and have ever taken Elmiron, call 1-800-ELK-OHIO or contact us online.