Exactech Knee and Ankle Recall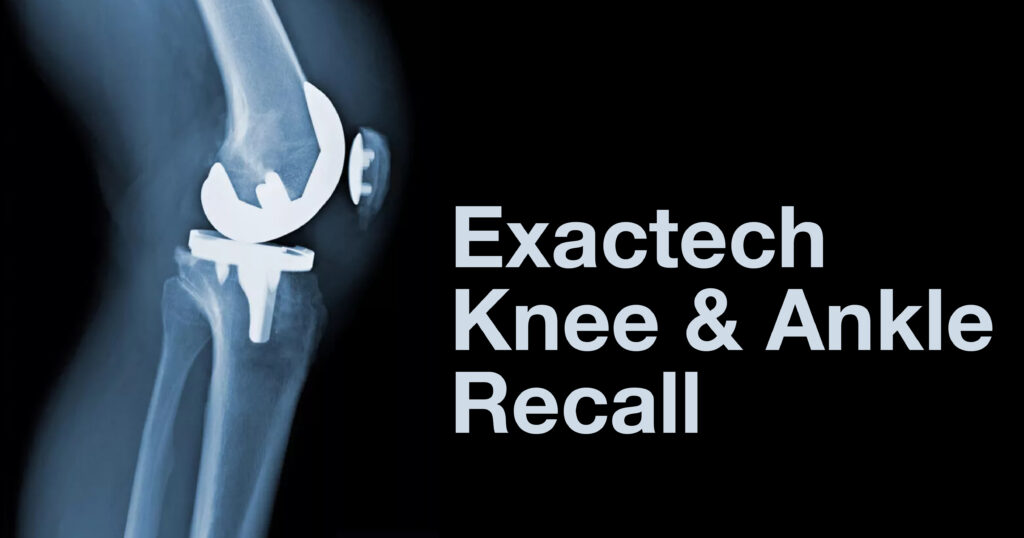 Exactech knee and ankle replacement inserts have been recalled due to faulty packaging, leading to accelerated wear and increased revision surgeries.
Why Is There a Recall?
The inserts are specially packaged in double-barrier vacuum-sealed bags that decrease the chance of oxidation and degeneration of the liners.
A recall was placed in August 2021 for select products of the knee and ankle arthroplasty polyethylene inserts packaged in non-conforming bags. The bags were not vacuum-sealed and did not include the second barrier of ethylene vinyl alcohol (EVOH).
The recall now includes total ankle replacements and total knee replacements done with those products made of polyethylene.
Potential Injuries from the Recall
Patients affected by this recall may experience:
New or worsening pain
Swelling of the knee or ankle
Limited mobility
Pain while walking
Inability to bear weight
Grinding
Clicking
Instability
Polyethylene wear
Osteolysis
Need for revision surgery
If you or a loved one received an ankle or knee replacement with the defective inserts, you may be entitled to compensation. Contact our experienced lawyers at Elk + Elk for a free case review.
What Brands of Exactech Liners Have Been Recalled?
Exactech, Exactech Inc., and Exactech U.S. have found that their products of OPTETRAK ®, OPTETRAK Logic ®, TRULIANT ®, and VANTAGE ® have contained the recalled polyethylene inserts.
OPTETRAK ®
All-polyethylene CR Tibial Components
All-polyethylene PS Tibial Components
CR Tibial Inserts
CR Slope Tibial Inserts
PS Tibial Inserts
HI-FLEX ® PS Tibial Inserts
OPTETRACK Logic ®
CR Tibial Inserts
CR Slope Tibial Inserts
CRC Tibial Inserts
PS Tibial Inserts
PSC Tibial Inserts
CC Tibial Inserts
TRULIANT ®
CR Tibial Inserts
CR Slope Tibial Inserts
CRC Tibial Inserts
PS Tibial Inserts
PSC Tibial Inserts
VANTAGE ®
Fixed-Bearing Liner Component
Can I File a Lawsuit?
You may be qualified for a knee and ankle replacement lawsuit if:
Diagnosed with loosening of the inserts or osteolysis
Require revision surgery due to loosening or osteolysis of the insert
Individuals experiencing symptoms from their Exactech knee or ankle replacement that are seeking further care or evaluation
Knee replacement implanted between 2004 and February 2022, if revised less than 12 years after the initial implant
Ankle replacements implanted between 2017 and February 2022
Compensation You Can Receive
While Exactech has announced offering coverage for specific follow-up and revision surgery costs, Elk + Elk lawyers can also help you receive compensation for:
Medical expenses related to the knee or ankle replacement
Lost wages due from missing work because of the replacement
Pain and suffering
If you or a loved one received a defective Exactech insert during a knee or ankle replacement surgery, call 1-800-355-6446 or fill out a contact form. Our case reviews are free, and we offer a no-fee promise.