Talcum Powder Linked to Ovarian Cancer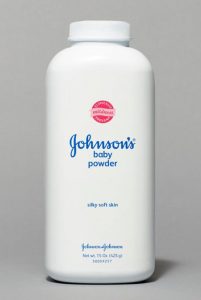 Elk & Elk is investigating claims stating that talcum powder can cause ovarian cancer
May 2020 UPDATE: Johnson & Johnson to End Talc-Based Baby Powder Sales in North America.
Baby powder and body powder that contains talc may cause ovarian cancer when applied to the genital area or on sanitary napkins, diaphragms, or condoms.
Studies spanning more than three decades indicate that manufacturers of powders containing talc have failed to warn consumers of serious health risks.
If you used talcum powder and were then diagnosed with ovarian and/or fallopian tube cancer, call 1-800-ELK-OHIO for a free case review or contact us online.
How does talcum powder cause cancer?
Talc is a very soft mineral, commonly used in cosmetics. Like asbestos, talc is a silicate that has been studied in relation to cancer risk.
Researchers have found that when baby powder is applied in the genital area, talc fibers can migrate through the female reproductive system to the ovaries. These fibers can cause the ovaries to become inflamed and affect the immune system, increasing a woman's risk of developing ovarian cancer by as much as 30%.1
Johnson & Johnson Failed to Warn Consumers
At a recent federal trial, Harvard epidemiologist Dr. Daniel Cramer testified that a failure to warn women about the risks of perineal talc exposure from baby powder has caused as many as 10,000 to women develop ovarian cancer each year as a result of baby powder use.2 The jury in that trial found that Johnson & Johnson knew of the cancer risks associated with its talc products but failed to warn consumers.
Ovarian cancer accounts for more deaths than any other cancer of the female reproductive system
According to the American Cancer Society, about 22,000 women will receive an ovarian cancer diagnosis and more than 14,000 will die from ovarian cancer this year in the United States. Unfortunately, many women go undiagnosed until the cancer progresses to an advanced stage, making it more difficult to treat.
Contact us for a free case review
If you or a loved one was diagnosed with ovarian or fallopian tube cancer following the use of a talcum powder product, you may be entitled to significant compensation for medical expenses, lost wages, pain and suffering. Call 1-800-ELK-OHIO or contact us online today for a free case review.
---
1 A recent study indicated that women who use powder containing talc in the genital area have a 20% to 30% higher risk of ovarian cancer than those who do not. (Terry KL, Karageorgi S, Shvetsov YB, Merritt MA, Lurie G, Thompson PJ et al. Genital Powder Use and Risk of Ovarian Cancer: A Pooled Analysis of 8,525 Cases and 9,859 Controls. Cancer Prev. Res. 2013;6:811-21.)
2 Daniel Cramer of Harvard University told jurors that talc probably was a contributing factor in 10,000 cases of ovarian cancer each year. (Deane Berg v. Johnson & Johnson Consumer Companies, Inc., U.S. District Court, District of South Dakota, Case No. 09-4179.)