Philips CPAP and BiPAP Devices Have Been Linked to Cancer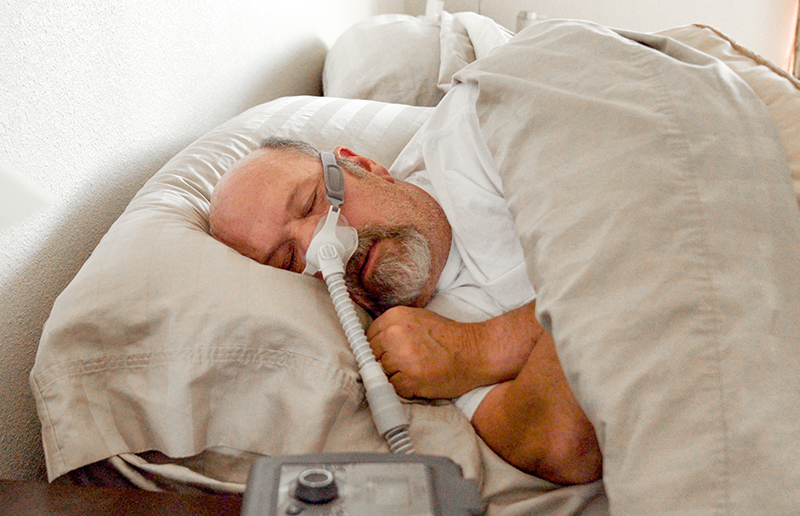 Philips CPAP Lawsuit
On June 14, 2021, Philips announced a voluntary recall for millions of its sleep and respiratory care devices because of potential health hazards. Philips determined the sound abatement foam component used in the devices poses possible risks to users. The foam, made of polyester-based polyurethane (PE-PUR), can degrade causing particles to be swallowed or inhaled via the device's air pathway. Certain chemical gases may also be given off.
Symptoms of Foam Particle Inhalation or Ingestion
Headache
Irritation
Inflammation
Hypersensitivity
Nausea
Vomiting
Have you or a loved one been diagnosed with cancer after using a Philips CPAP machine? Call 1-800-ELK-OHIO or contact us online for a free case review.
FDA Statement About Philips Ventilators, BiPAP and CPAP Machines
On June 30, 2021, the FDA issued the following safety communication:
The U.S. Food and Drug Administration (FDA) is alerting people who use Philips Respironics ventilators, BiPAP, and CPAP machines and their health care providers that Philips Respironics has recalled certain devices (see table below) due to potential health risks. The polyester-based polyurethane (PE-PUR) sound abatement foam, which is used to reduce sound and vibration in these affected devices, may break down and potentially enter the device's air pathway. If this occurs, black debris from the foam or certain chemicals released into the device's air pathway may be inhaled or swallowed by the person using the device.
Potential Health Risks of Inhaling PE-PUR Foam
Cancer Risk
There is a carcinogenic risk with the devices that may lead to the development of the following cancers:
Bladder Cancer
Bone Marrow Cancer
Brain Cancer
Breast Cancer
Esophageal Cancer
Hematopoietic (Blood) Cancer
Leukemia
Lung Cancer
Lymphatic Cancer
Multiple Myeloma
Nasal Cancer
Non-Hodgkin Lymphoma
Papillary Carcinoma
Rectal Cancer
Sinus Cancer
Stomach Cancer
Testicular Cancer
Thyroid Cancer
Tonsil Cancer
Other Serious Injuries
Respiratory issues may also occur from potential toxic or chemical exposure:
Lung/Pulmonary Damage
Pleural Effusion
Lung/Pulmonary Disease
Reactive Airway Disease (RAD)
Acute Respiratory Distress System (ARDS)
New or worsening asthma
Respiratory Failure
Chemical Poisoning
Severe Ear, Nose, Throat, Sinus, or Oral Cavity Inflammation (3 years of usage for oral cancer)
Sarcoidosis
Philips Recalled Devices
The following devices manufactured between 2009 and April 26, 2021, have been recalled:
CPAP and BiLevel PAP Devices
Continuous Ventilator, Minimum Ventilatory Support, Facility Use
Continuous Ventilator, Non-life Supporting
Non-continuous Ventilator
Mechanical Ventilators
Continuous Ventilator
Continuous Ventilator, Minimum Ventilatory Support, Facility Use
Continuous Ventilator, Non-life Supporting
What is a Ventilator? CPAP? BiPAP?
Ventilator
A mechanical ventilator helps people take breaths when they are unable to do so on their own. A ventilator uses tubes to push airflow into the patient's lungs.
CPAP
A continuous positive airway pressure (CPAP) machine is the most commonly prescribed device for treating sleep apnea disorders. It sends an uninterrupted stream of oxygen into your nose and mouth as you sleep, keeping your airways open helping you breathe normally.
BiPAP
A Bi-level positive airflow pressure (BiPAP) machine is similar, but the pressurized air is delivered at two levels, one pressure for inhaling and a lower pressure for exhaling.
Are you suffering from issues after using Philips breathing machines?
Contact Elk & Elk for a free case review
The attorneys at Elk & Elk are ready to take in your claims. If you used a recalled Philips BiPAP, CPAP or ventilator and suffered health problems or have lost a loved one, contact us online or call 1-800-ELK-OHIO for a free case review.