PPI Heartburn Drugs Linked to Kidney Damage
UPDATE 11/15/2016:

Popular heartburn drugs linked to increased risk of stroke

Preliminary research presented at a recent American Heart Association conference revealed a link between popular PPI drugs, including Nexium and Protonix, and an increased risk of ischemic stroke. When taken at the highest doses, risk of stroke increased by 50 percent in patients who took Nexium and 79 percent in those who took Protonix. The study identified a 21 percent overall increased risk of stroke among patients who took PPI drugs.
Popular heartburn medications Nexium, Prevacid, Prilosec, and Protonix have been linked to increased risk of chronic kidney disease, according to a new study published in JAMA Internal Medicine.
People who take proton pump inhibitors (PPIs) for heartburn, indigestion, acid reflux (GERD) and gastric ulcers have a 20 to 50 percent higher risk of chronic kidney disease compared with nonusers, said the study's lead author Dr. Morgan Grams, Assistant Professor of Epidemiology at Johns Hopkins University in Baltimore.
If you or a loved one suffered kidney disease or renal failure after taking Nexium, Prevacid, Prilosec or Protonix, call 1-800-ELK-OHIO to speak an experienced attorney. You may be eligible for financial compensation.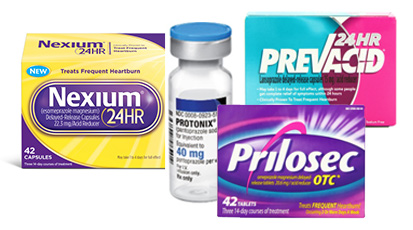 What are PPIs?
Proton pump inhibitors (PPIs) are a class of drugs taken to treat heartburn, gastroesophageal reflux disease (GERD) and gastric ulcers by reducing the production of stomach acid. More than 15 million Americans used prescription PPIs in 2013, costing more than $10 billion.
PPI drugs are available by prescription and over the counter (OTC) under the following brand names:
Nexium ®
Prilosec ®
Prevacid ®
Protonix ®
How do PPIs work?
In the lining of your stomach, specialized cells called parietal cells release gastric acid into the stomach through proton pumps. PPIs work by blocking the gastric proton pumps, preventing the flow of acid for up to 24 hours.
Are PPIs safe?
In a recent study of more than 250,000 patients, PPIs appear to significantly elevate the chances of developing chronic kidney disease and renal failure, which can lead to serious injuries and death.
John Clarke, a gastroenterologist at Johns Hopkins Hospital in Baltimore, warned  NPR that PPIs may have serious risks:
"The teaching for many years was that these drugs were quite safe. But there is data that's emerging that suggests PPIs may not be as safe as we think they are."
Clarke also said that patients should usually only take PPIs for two to eight weeks, although their doctor may recommend more.
What is Chronic Kidney Disease?
Chronic kidney disease (CKD) is the gradual loss of kidney function over time. Your kidneys are important organs that filter waste and excess fluids from your blood, which your body then eliminates through urine. Advanced CKD can cause dangerous levels of fluid, electrolytes and wastes to build up in your body, forcing patients to undergo dialysis or a kidney transplant. Also known as chronic renal disease or chronic kidney failure, CKD is often called a "silent killer" because patients usually do not have any symptoms until significant kidney damage occurs.
Symptoms of Chronic Kidney Disease
Chronic kidney disease usually develops over time, but symptoms may accelerate if the disease progresses rapidly. Signs and symptoms of kidney disease may include:
Nausea or vomiting
Changes in urination
Fatigue/tiredness
Trouble sleeping
Inflammation/swelling of feet and ankles
Skin rash/itching
Back pain
High blood pressure (hypertension)
Testing for CKD
Symptoms of kidney disease are often nonspecific, meaning they may also be caused by other illnesses. The only way to determine how well your kidneys are working is to be tested. Although urine tests are sometimes used, the best way to measure kidney function is with a blood test, which helps your doctor estimate your estimated glomerular filtration rate, or eGFR.
Calculating Your eGFR Level and What it Means
Your eGFR (estimated glomerular filtration rate) level reveals how well your kidneys are cleaning your blood. When kidneys are damaged, they have trouble removing a waste product called creatinine from your blood.
To calculate your glomerular filtration rate, your doctor will use your creatinine level in a math formula, which also takes into account your age, race, and sex. If your eGFR is less than 60 for three months or more, you might have kidney disease.
Do I have a PPI heartburn medication lawsuit?
The experienced trial lawyers at Elk & Elk are actively pursuing cases for plaintiffs injured by PPI heartburn drugs. If you suffered kidney damage after years of continuous PPI heartburn medication use, contact us online or call us at 1-800-ELK-OHIO for a free consultation.
At Elk & Elk, we have a No Fee Promise, which means you pay nothing unless we achieve a successful outcome with a financial recovery in your case.
Resources:
Lazarus B, Chen Y, Wilson FP, et al. " Proton Pump Inhibitor Use and the Risk of Chronic Kidney Disease." JAMA Intern Med, 11 Jan. 2016. Web. 15 Feb. 2016. 2016;176(2):238-246. doi:10.1001/jamainternmed.2015.7193.
Stein, Rob. " Popular Acid Reflux Drugs Are Linked To Kidney Disease Risk." NPR. NPR, 11 Jan. 2016. Web. 15 Feb. 2016
Disclaimer
This website is not intended to provide medical advice. Patients should not stop or change their PPI medicines without talking to their physician. If you believe you have signs or symptoms of kidney damage, your physician can evaluate you and advise you on the proper treatment if kidney disease is confirmed.
Trademark Notice
Nexium, Prilosec, and Prilosec OTC are registered trademarks of the AstraZeneca group of companies. Prevacid is a registered trademark of Takeda Pharmaceuticals U. S. A., Inc. Protonix is a registered trademark of Wyeth Pharmaceuticals Inc. The use of these trademarks is solely for product identification and informational purposes.