Opioid-Related Car Accidents Are On The Rise
Posted in Accident & Injury, Drug & Medical Devices on August 10, 2017
The opioid crisis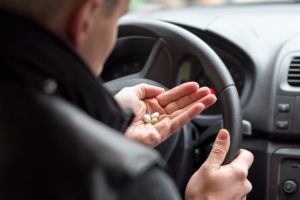 is hitting Ohio especially hard.
Abuse of prescription painkillers like fentanyl and oxycodone, as well as heroin, has risen dramatically over the past decade:
In 2005:
Approximately 15,000 deaths in the United States
500 deaths in Ohio
In 2015:
Approximately 33,000 deaths in the United States
2,700 deaths in Ohio
Alarmingly, experts believe that opioid-related deaths across the United States may actually be underreported.
With masses of people hooked on opioids, all facets of life are affected.
Opioid-related car accidents
One particular issue resulting from the opioid epidemic is that of traffic safety. More opioid addicts mean more opioid-addicted drivers hitting the road. Opioid drugs can cause drowsiness, dizziness, and impaired thinking. They can also slow a driver's reaction time.
The epidemic is putting drivers in Ohio – and all cross the country – at risk.
Columbia University researchers found a sevenfold increase in the number of traffic fatalities involving drivers who were under the influence of prescription painkillers since 1995.
Researchers looked at the prevalence of drivers who had prescription opioids in their systems at the time of death after a car accident. In 1995, 1 percent of drivers tested positive. In 2015, 7.2 percent of drivers tested positive.
More and more people are being prescribed prescription painkillers, and drug overdose deaths are at an all time high in the United States. More people than ever are purchasing opioids illegally. More drivers are operating vehicles while under the influence of drugs. And more deaths are resulting.
If you or a loved one have been injured in an accident caused by a driver who was under the influence of opioids, please call Elk & Elk at 1-800-ELK-OHIO for a free consultation.