Ohio Pumpkin Patches to Visit this Fall
Posted in Leisure on September 30, 2021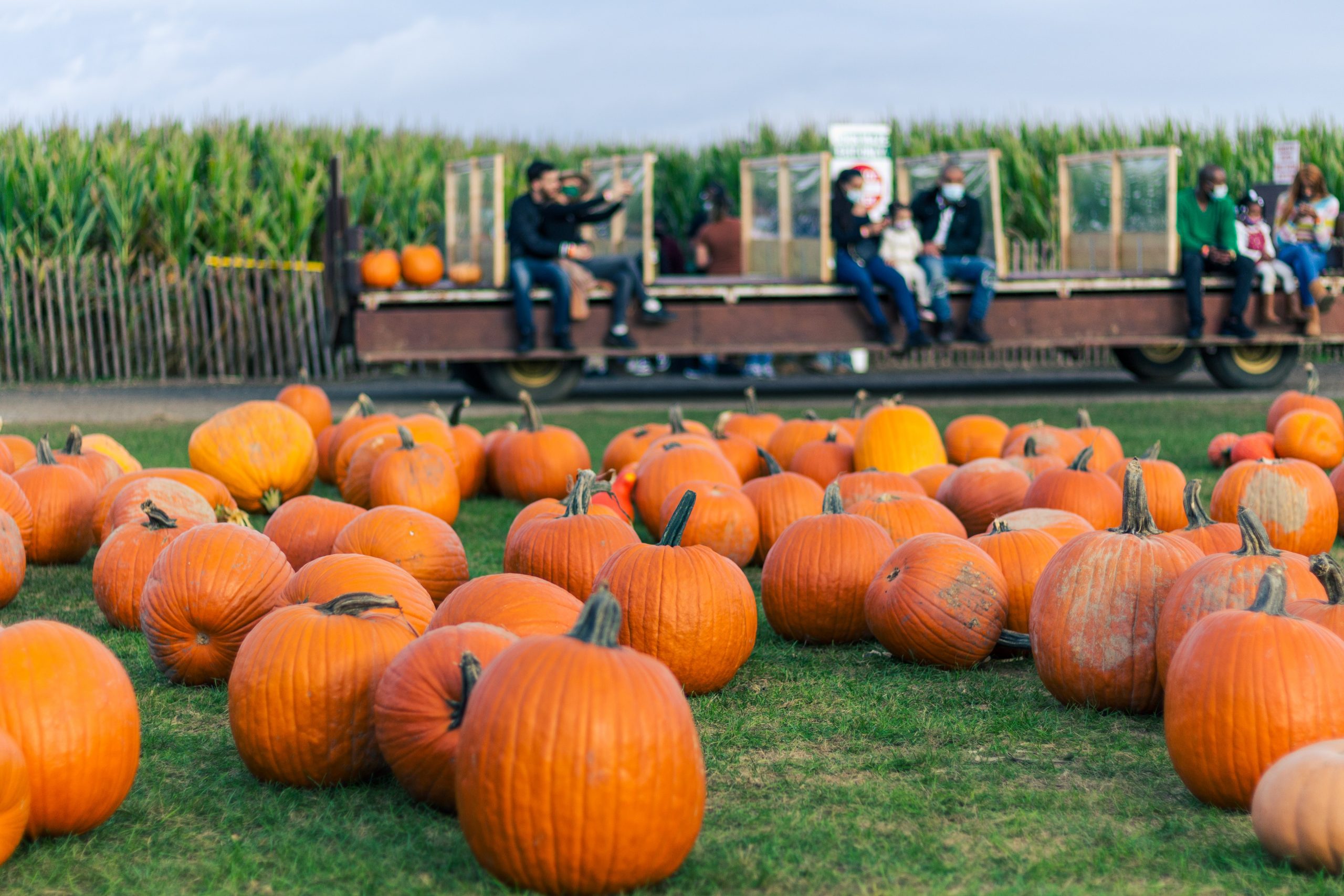 With the start of fall and Halloween around the corner, finding the perfect place to get a jack-o-lantern can be difficult. We want to make that easier and provide our top picks for pumpkin patches around Ohio that the whole family will enjoy.
Northern Ohio
0064 Co Rd 16, Napoleon, OH 43545
Offerings include pumpkin picking, a corn maze, hayrides, and many other family-friendly attractions. Screamacres is offered Friday and Saturday nights where guests looking for a scare must escape a haunted cornfield.
11414 Caves Rd, Chesterland, OH 44026
Patterson Family Fun Fest is a fall tradition for guests that includes activities such as a racing slide, swings, tractors, a corn maze, and wagon rides, all while getting their perfect pumpkin. The indoor market offers fresh baked goods, ciders, maple syrup, hand-picked fruit, and more.
294 Pearl Rd, Brunswick, OH 44212
Dressing up and enjoying Pumpkin Village is encouraged at Mapleside. Enjoy a hayride, corn maze, the longest slide in America, and live performances. Enjoy themed weekends that make spooky season more exciting for everyone.
1327 Co Rd 1475, Ashland, OH 44805
Honey Haven has something to offer for the whole family, from food, drinks, activities, and more. It is easy to spend hours enjoying this farm with the bonus of free admission, parking, and rides up to the pumpkin patch!
8800 Euclid Chardon Rd, Kirtland, OH 44094
Lake Metroparks brings fall fun every weekend, starting with apple butter & cider weekend, corn & pumpkin weekends, and Halloween drive-thrus throughout October. The changes in events can provide everyone with something to enjoy this season.
Central Ohio
8019 OH-113 East, Berlin Heights, OH 44814
Throughout October, Burnham has different events centered around fall activities. With a wristband purchase, people get to enjoy activities such as the corn maze, hayride, petting zoo, slide, etc., for the entire day.
4413 National Rd SW, Hebron, OH 43025
Located on 20 acres of land, Pigeon Roost provides over 30 fall-related activities for the family to enjoy. With an assortment of pumpkins to find, families can have fun all day and find their perfect jack-o-lantern! The recent expansion included zip lines, corn maze, obstacle course, and more.
8738 Marysville Rd, Ostrander, OH 43061
While pre-purchased tickets are required, arriving at Leeds Farms will not disappoint. With over 15 activities to take part in, the whole family will enjoy time together.
8657 Axe Handle Rd, Milford Center, OH 43045
Not only does the Maize have fall events happening this month, but they also have unique activities for the family to enjoy. When it gets dark, beware of the corn maze as creatures emerge for the Field of Fright.
Southern Ohio
41251 State Farm Rd, Albany, OH 45710
Libby's can provide enjoyment to guests looking for family fun or the Dirty Pumpkin Run obstacle course. With their assortment of pumpkins, every family member can find their pick of the perfect pumpkin.
6555 OH-73 W, Wilmington, OH 45177
With options for all ages, the whole family can enjoy a day at Pot-Luck. To ensure the enjoyment of this fall activity, guests are required to purchase tickets before entry online.
9669 OH-48, Loveland, OH 45140
While Blooms & Berries provides fresh produce and local goods, it also includes fall activities to enjoy. They offer a one-stop-shop feel where families can enjoy full days on their property!
2444 Conley Rd, Lucasville, OH 45648
With a large pumpkin patch and various activities, families can have a great time at Kindred Ridge this fall. At the end of October, they can experience Halloween Palooza, which includes storytimes, parades, pumpkin painting, and more.